We All Live in Lovecraft Country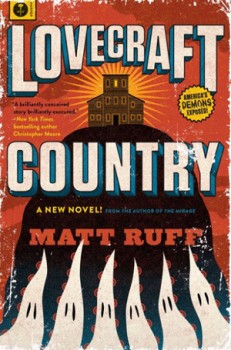 Lovecraft Country
by Matt Ruff
Harper (384 pages, $26.99 hardback, $7.99 digital, February 2016)
Pam Noles grew up the daughter of a mother who was very active in the NAACP and a father who, because of his color, had to sue their city after being turned down eight times for a firefighting job. Noles also grew up loving all things science fiction — books and B movies — even though nobody on those book covers or in those movies resembled her family.
On Saturday nights Noles watched schlocky movies hosted by an Elvira knockoff called The Ghoul, backed by a cast of weirdos (every big market had something similar — in Philly we had Saturday Night Dead, hosted by Stella "The Maneater From Manayunk"). During breaks in the movie they performed skits.
Usually it would be just me in the basement sprawled on the floor surrounded by snacks, Legos and books to read during the commercials. If he was off shift, sometimes Dad would come down and join me in his leather recliner by the stairs. Every once in a while Mom called down from the kitchen Are you letting her watch those weird things? And we'd lie in unison, No. If she came down to check for herself, Dad would get in trouble.

Dad had his own names for the movies.

What's this? 'Escape to a White Planet?'

It's called 'When Worlds Collide.' I'm sure I sounded indignant.

'Mars Kills the White People.' I love this one.

Daaaaad. It says it right there. 'War of the Worlds'. I know I sighed heavily, but was careful to turn back to the tv before rolling my eyes.

Once he asked me which was more real, the movie or the skits between. I didn't get it, and told him that they were both stories, so they were both fake. He didn't bring it up again until a skit came on. I can't remember if it was a 'Soulman' skit or one of the caveman gags (the cavemen were multicultural — basic white, Polish, Italian, and black). But I remember Dad saying, how come you never see anybody like that in the stories you like? And I remember answering, maybe they didn't have black people back then. He said there's always been black people. I said but black people can't be wizards and space people and they can't fight evil, so they can't be in the story. When he didn't say anything back I turned around. He was in full recline mode in his chair and he was very still, looking at me. He didn't say anything else.