Birthday Reviews: Mary C. Pangborn's "The Confession of Hamo"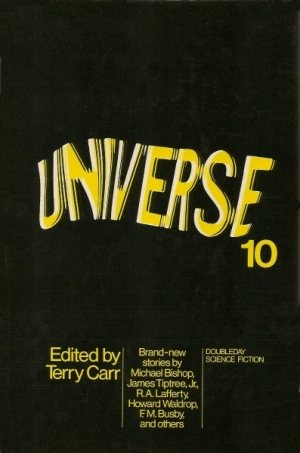 Mary C. Pangborn was born on August 13, 1907 and died on February 20, 2000.
Pangborn didn't publish very many works during her career. Her first story appeared in 1979 and she published six stories by 1985 with one more appearing in 1996. Although she has written a novel, it has not yet been published. Three of her stories appeared in the Universe series, another in the New Dimensions series, one in Fantasy and Science Fiction.
Mary C. Pangborn's third story was "The Confession of Hamo," originally published in 1980 in Terry Carr's Universe 10. Carr enjoyed the story so much that he included it the next year in his Fantasy Annual IV. When Several of the stories that appeared in the Fantasy Annual series were translated into Spanish for inclusion in the book Fantasias in 1989, "The Confession of Hamo" was one of them.
The title of "The Confession of Hamo" tells the reader exactly what they should expect, although without any of the details. Hamo, living in fifteenth century England, is confessing his sins to Brother Albertus, although it isn't entirely clear that Hamo is fully aware of the extent and nature of his sins. Hamo has been traveling the countryside with his friend, Tom o'Fowey, who calls himself Moses the Mage. The two scam people into believing that they can change base metal into gold.
Through their travels, they occasionally meet up with another charlatan who goes by the name Black Jamie, who teaches them how to make it appear that they are creating gold. Although Hamo never explicitly identifies Black Jamie, it is clear that he is a representation of the Devil. Instead, Hamo is more concerned about the crime of alchemy that he and Tom practiced, although at the same time he is clearly proud of the scam they perpetrated.
Eventually, Black Jamie sends Hamo on a quest, warning him that part of himself would be taken from him. Hamo's biggest concern that he would lose his genitalia proves to be unfounded, although he does lose an non-tangible part of himself which proves to be a huge problem for someone who earns their money scamming others. Hamo, who now calls himself the Accursed, also finds that Tom has been taken prisoner by the sheriff, and it's up to the now destitute Hamo to figure out a way to free him without his own biggest asset.