Birthday Reviews: Lyda Morehouse's "God Box"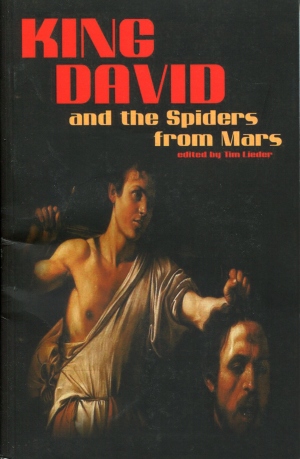 Lyda Morehouse was born on November 18, 1967.
Her novel Apocalypse Array received a special citation from the Philip K. Dick Award in 2005 and she served on the jury the following year. She has published several novels using the pseudonym Tate Hallaway and has collaborated with Rachel Calish and Naomi Kritzer.
"God Box" was published in the small press anthology King David and the Spiders from Mars, edited by Tim Lieder in 2014. The story has not been reprinted.
Morehouse has set "God Box" on a Ganymede, which is torn by a war between the human InForcers and the Rovers, an alien race which claims Ganymede is its ancestral home. A platoon of Inforcers has brought a Rover artifact into a church on Ganymede and has instructed the Reverend Mother Kayla that she is responsible for overseeing the mysterious box, although they will leave an honor guard to help protect it in case the Rovers come looking for the reliquary.
The Rovers really don't come into play in the story, which is focused mostly on Kayla's feelings about the InForcers, who tortured and raped her when she was younger and part of the Martian Resistance. She has since found solace and faith in God and firmly believes in her deity and takes comfort from a small crucifix she has had since her days with the Resistance. The box itself makes her profoundly uncomfortable and when she and the InForcers discover that a giant marble Jesus seems to have fallen from the crucifix in the church's nave and appears to be genuflecting to the box, it raises the question of which god is more powerful.
The story is a little disjointed and is a strange mixture of a chronological timeline and Reverend Kayla's stream of conscious thoughts about her duty to the Humans on Ganymede, her dislike of the InForcers, and her disquiet caused by the presences of the box. The story's denouement is someone ambiguous as the box is removed to another house of worship, but seems to show that the Rovers, or at least their god, are more powerful than the Humans on Ganymede.