Birthday Reviews: Patricia Anthony's "Lunch with Daddy"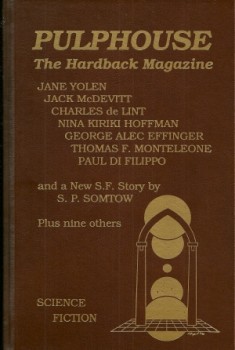 Most days in 2018, I'll be selecting an author whose birthday is celebrated on that date and reviewing a speculative fiction story written by that author.

Patricia Anthony was born on January 3, 1947 and died on August 2, 2013. Her debut novel, Cold Allies, won the 1994 Locus Award for Best First Novel. Booksellers often tell stories about customers who come in looking for a book with a basic description like "It's blue." When I was working for a bookstore in the mid-1990s, I had a customer come in looking for "A science fiction book with a blue cover and red print." Based on that, I was able to correctly identify the book as the paperback edition of Cold Allies.
Her story "Lunch with Daddy" was originally published in Pulphouse Hardcover Magazine issue 8 in Summer 1990, edited by Kristine Kathryn Rusch. It was reprinted in Anthony's collection Eating Memories in 1997.
"Lunch with Daddy" tells the story of a woman who is visiting her abusive father five years after the last time she has seen him. During that time, she has managed to come to terms with her hatred of both her father and her mother, although she has put it aside rather than confronting either of her parents. Her father has summoned her to his mansion to give her a gift just before he is set to take a four year posting to Geneva, Switzerland at the request of the new President.
At first, he merely seems distant and oblivious to any harm he caused his daughter when she was younger, however, as the story unfolds it becomes clear that the technology which is preserving his life and making him an asset for the government has also impacted his ability to have emotions or relate to those around him. His former inability to feel empathy has been technologically augmented, making him even more monstrous than the wife and child beater he was.
An attempt to make amends to his estranged daughter take the monster that he is and adds a pitiable veneer to him. The story is well written and draws the reader into its world in a short space, leaving a more emotional impact than either of the characters is able to show.