Birthday Reviews: C.L. Moore's "Lost Paradise"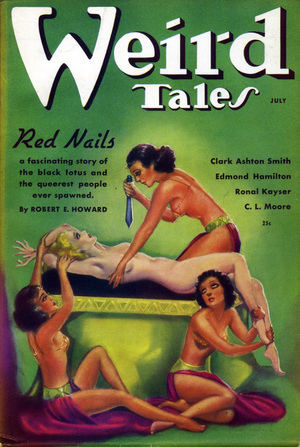 C.L. (Catherine Lucille) Moore was born on January 24, 1911 and died on April 4, 1987. From 1940 until his death in 1958, she was married to science fiction author Henry Kuttner. The two had their own careers and also collaborated together, although they claimed that they each worked on all of the other's stories, sitting down and continuing whatever was in the typewriter at the time. Moore (or Moore/Kuttner) also used the pseudonyms Lawrence O'Donnell, C.H. Liddell, and Lewis Padgett.
In 1956, their collaboration "Home There's No Returning" was nominated for the Hugo for Best Novelette. She received the First Fandom Hall of Fame Award in 1972, the Forry Award in 1973, and the World Fantasy Award for Lifetime Achievement in 1981. Moore was the Guest of Honor at Denvention Two, the 1981 Worldcon in Denver. Posthumously, she was inducted into the Science Fiction Hall of Fame in 1998 and, along with Kuttner, was named the recipient of the Cordwainer Smith Rediscovery Award in 2004.
"Lost Paradise" is one of her stories featuring her space-faring rogue Northwest Smith and was originally published in the July 1936 issue of Weird Tales, edited by Farnsworth Wright. Moore included it in various collections, including Northwest of Earth, Shambleau, and Scarlet Dream. It has seen additional reprintings and has been translated into French and Italian.
"Lost Paradise" is essentially a bar story with a twist. Northwest Smith and his Venusian friend Yarol are enjoying a meal in New York when Yarol sees a strange man walking along the street below them. When the man is mugged, Yarol manages to retrieve the man's package and, having recognized him as a member of a strange, secluded race, the Seles, who live in central Asia but don't intermingle with any other peoples, he tells him that the only reward he desires is to know the great secret of the Seles.