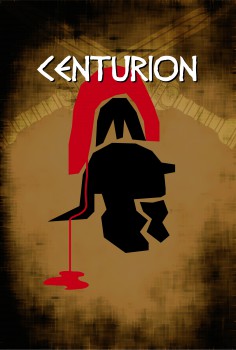 The idea for a role-playing game focused on playing legionaries was in my head as early as August of 2009 when I did a podcast series on playing military characters in role-playing games, and did episodes on Republican Rome, the Civil Wars and the early Empire. I had always loved Roman history and the image of the legion, and I had run games set in Imperial Rome, or a reasonable facsimile thereof, but hadn't thought about actually designing a game for legionaries.
Then I created Sword Noir and Kiss My Axe, and I realized this was something I could do. I decided it was something I wanted to do. And thus was Centurion: Legionaries of Rome set on its long path to realization.
What's the point, you might ask, of developing a game with such a specific focus when there are other games out there that could probably do the job? One of the reasons is because I can. The mountain climber answer never appeased anyone, so let me try this: other games might do the job, but what if one wants a game designed for the job. There's a good chance that game will do the job better.
I spent most of my role-playing life playing with one system: Dungeons & Dragons. Why bother to learn another system when this one does what I want? And, yeah, sometimes it doesn't do exactly what I want, but it's close, and I can always house-rule it.
So until a little under a decade ago, I was in the thrall of D&D. Completely. It was not a bad place to be, and let me tell you, I am excited about 5E … or D&D Next … or whatever it's going to be. I still love D&D and that's because it does its own thing so well. It has created its own fantasy genre that is different from anything else out there. That doesn't mean it is the perfect game for all genres.