Birthday Reviews: Mary Robinette Kowal's "Just Right"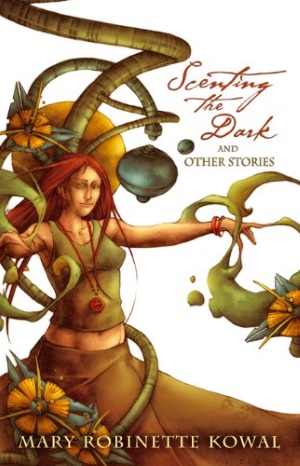 Mary Robinette Kowal was born on February 8, 1969. Originally a puppeteer, she began publishing fiction in 2004, with her first novel, Shades of Milk and Honey, arriving in 2010.
In 2008, she won the John W. Campbell Award for Best New Writers and has gone on to win the Hugo Award three times, each in a different category. In 2011, she won the Hugo for Best Short Story for "For Want of a Nail." She won for Best Related work for season seven of Writing Excuses, a podcast she produces in collaboration with Brandon Sanderson, Dan Wells, Howard Tayler, and Jordan Sanderson, and in 2014 for her novelette "The Lady Astronaut of Mars." She has served as both Secretary and Vice President of the Science Fiction and Fantasy Writers of America and continues to volunteer for the organization in various roles.
"Just Right" was Mary Robinette Kowal's first sale, and it appeared in The First Line in Summer 2004.
On the surface it tells the story of a woman who is dealing with the strange eccentricities of her six year old son. Celia's husband, Lou, usually handles the morning rituals because Celia leaves each day to teach school. With the start of Summer vacation, however, she has suddenly thrown into the morning domestic routine and learns that her son, Mason, likes to do things in very specific, seemingly childish ways. When Celia stop playing along, Mason throws a very atypical temper tantrum.
While "Just Right" seems like a slice of life tale, it really is a very effective short horror story. Celia doesn't understand what is happening because she is missing a very basic piece of information.
The effectiveness of the story comes from the banality of Celia situation. Anyone with children has experienced the seemingly random meltdowns when a child doesn't get its way and learns how to handle the child. In this case, Celia is learning that the typical methods of raising her son aren't always effective, although she is unaware of the cause.