Birthday Reviews: John Dalmas's "In the Bosom of His Family"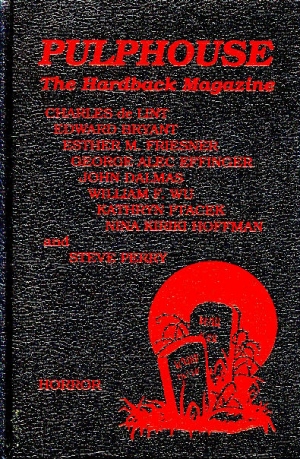 John Dalmas was born John Jones on December 3, 1926 and died on June 15, 2017.
Dalmas first book The Yngling was serialized in Analog in 1969 and published in book form in 1971. Dalmas began publishing regularly in the 1980s, producing the Fanglith books and The Regiment series, as well as many short stories. In addition to his career as an author Dalmas worked for the US Forest Service.
Dalmas originally published "In the Bosom of His Family" in the October 1989 issue of Pulphouse: The Hardback Magazine, Volume 5: Horror, edited by Kristine Kathryn Rusch. The story has never been reprinted.
Although "In the Bosom of His Family" is an horror story, the true horror of the tale doesn't become apparent until near the end. It focuses on Charley Greer, part of a family of ranchers who have been settled in the valley for generations. Everything is done the "Greer Way," including procreation. The eldest sons are expected to marry and have children while the younger sons are expected to remain single and stay on to help the family ranch. Charley is the second son and is helping out, but he is also dying of cancer and realizes his time is near.
Dalmas focuses on the familial ties and the sense of filial obligation, but Charley also sees his sister-in-law pregnant with a child who will follow in Charley's role. Charley also reflects on his own uncle Charley, a younger brother who he never met, but whose life he is emulating and who he heard stories about from his grandfather and did his best to evoke his grandfather's memories of him.
Seeing the life around him and the life expected for his potential nephew, Charley decides that rather than die on the ranch, as is the Greer way, he would head to the hospital, even if it meant an arduous trek overland since he didn't want to have to ask for a ride. As Charley makes his way, it becomes evident that the Greer way is more than just tradition and Charley wasn't just channeling his uncle, but rather there is an element of reincarnation at play and Charley's life as a second son was a continuation of his uncle's life, just as Charley's nephew will be a reincarnation of him. Charley's hope is that by dying far away from the ranch, he might be able to spare his nephew that fate.