Birthday Reviews: Jeff Duntemann's "Guardian"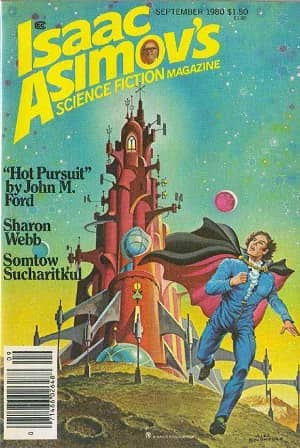 Jeff Duntemann was born on June 29, 1952.
Duntemann began publishing in 1974 with "Our Lady of the Endless Sky," and has mostly published short fiction. In 1981 Duntemann appeared on the Hugo Award for Short Story ballot twice, for "Cold Hands" and "Guardian," losing to Clifford Simak's "Grotto of the Dancing Deer." In 2005 ISFiC Press published his first novel, The Cunning Blood. He collaborated with Nancy Kress on the story "Borovsky's Hollow Woman" in 1983.
"Guardian" appeared in the September 1980 issue of Isaac Asimov's Science Fiction Magazine, edited by George H. Scithers. It was translated for its appearance in the German edition of the magazine, Isaac Asimovs Science Fiction Magazin 13 Folge and was included by Herbert W. Franke in the anthology Kontinuum 4 in 1987.
Duntemann's "Guardian" is an interesting mix of futuristic and historic. The Guardian in question has been tasked with protecting Princess Divin Rea Hol Wervig, even beyond death. When the princess's skull is taken from the swamp where she was interred, the Guardian seeks its return and vengeance. He makes his way into the nearby village where he finds himself confronting Abbot Gorman Izak.
In the millennia since the princess died and the Guardian, which is clearly robotic in nature, has come into contact with human civilization, society has changed, as has the technology level. Abbott Izak is clearly a religious in the Christian tradition who is able to have an intelligent conversation with the Guardian and manages to delay its vengeance by a week, during which time the Abbot promises to find the culprit who stole the skull.