Birthday Reviews: Jayge Carr's "The Lady or the Tiger"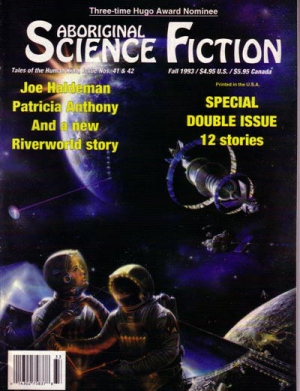 Jayge Carr was born Margery Ruth Morgenstern Krueger on July 28, 1940 and died on December 20, 2006.
In addition to her writing career, Carr worked as a nuclear physicist for NASA. Following her death from cancer, her remains were launched into orbit by Celestis.
"The Lady or the Tiger" was published by Charles C. Ryan in the Fall 1993 issue of Aboriginal Science Fiction after the magazine switched formats from a tabloid to a quarto format (standard magazine). The story has not been reprinted.
A missed stop of a city bus puts Alia in danger of being gang raped by a bunch of teenagers. When one of the teenagers momentarily objects, she is rescued by the timely arrival of the police, who take her savior into custody even as the other boys flee. In turn, Alia takes the boy under her wing and applies the Pygmalion treatment to him. However, as is quickly revealed, Alia is not what she appears and the situation is much more complex than anyone could guess.
All of Alia's actions regarding Benny, as well as her responses to Rod O'Rourke, the police officer who first helped her and later wooed her, seem to be governed by a pair of aliens who are testing the humans. It eventually becomes evident that Alia is one of the aliens, trying to figure out if humans can subvert their own violent tendencies.