Rogue Blades Presents: A Night with Kevin Smith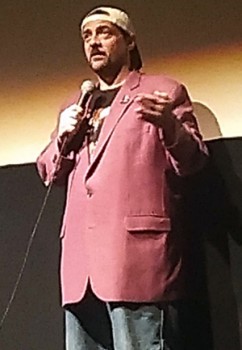 Kevin Smith likes to talk. A lot. So much so that the most recent parts of his career allow him to talk more and more and more. He's got a podcast. And a YouTube channel. And he's spent much of the last decade traveling around giving talks about himself, his career, and most recently about his newest movie.
(As a side note, if you don't know who Kevin Smith is, then you're probably not a Gen Xer or a fan of super heroes… probably. Smith makes movies, usually funny movies, or at least that's what he's best known for. He's also done other stuff, like writing, podcasting and owning comic book stores and just doing all kinds of work in movies and television.)
I can't say I'm the biggest Smith fan in the world, though I've enjoyed his movies over the last few decades and I've generally found him entertaining when I've watched a video of him giving a talk, or a lecture, or whatever it's called that he does when he's on a stage running his mouth. Anyway, I recently had the pleasure of seeing Smith live at The Carolina Theatre in Durham, North Carolina. Smith opened with a showing of his newest movie, Jay and Silent Bob Reboot, then afterwards he gave the crowded room more than an hour of his time as he answered questions and told stories.
Smith was always the gentleman (though he might not agree with that word to describe himself) and he was always patient with the crowd. His attitude reminded me somewhat of Freddie Mercury, the late lead singer for rock band Queen, in that Smith genuinely seemed to love the audience, loved to interact with the audience, and to entertain the audience — rare qualities, in my opinion.