Birthday Reviews: James Gunn's "The Day the Magic Came Back"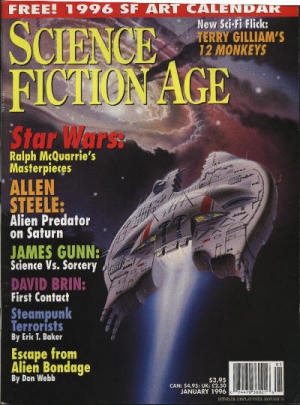 James E. Gunn was born on July 12, 1923.
In 1976, Gunn received a Worldcon Special Convention Award at MidAmeriCon for his book Alternate Worlds: The Illustrated History of Science Fiction. The same year the Science Fiction Research Association presented him with the Pilgrim Award. He was recognized with an Eaton Award in 1982. In 1983, his book Isaac Asimov: The Foundations of Science Fiction won the Hugo Award for Best Nonfiction Book. He received the Clareson Award from the SFRA in 1997. He received the Moskowitz Award in 2000 and was named a SFWA Grand Master in 2007. In 2009, he was inducted into the First Fandom Hall of Fame. Gunn was one of the Guests of Honor at LoneStarCon 3, the 71st World Science Fiction Convention held in San Antonio, Texas in 2013. Two years later, Gunn was inducted into the Science Fiction Fall of Fame in Seattle.
"The Day the Magic Came Back" was purchased by Scott Edelman for Science Fiction Age and appeared in the January 1996 issue. Gunn later included the story in his collection Human Voices, originally published in 2002.
When world class physician Dr. Knowland is unable to cure 9-year-old Linda Constant's disease, her family brought in their preacher, Mr. Alma, to the hospital to pray for her. As she slowly became better, Knowland had to admit that she was cured more by Alma's prayer than by Knowland's medicine, and Knowland went in search of the faith healer to learn his methods.
Although what Knowland learned was a conflict between belief and science, he approached Alma's technique with an open mind, coming to the conclusion that Alma was influencing people's health through an unknown, and not provable or necessarily reproducible, means. The realization produces a fear in Knowland not because he frets for his job, he admits that science needs something to fall back on, but rather because it destroys his understanding of the fundamental way the universe works. Even if his science and medicine continue to work, his universe has suddenly become too unpredictable for his tastes.