Andrew Zimmerman Jones Reviews The Authorized Ender Companion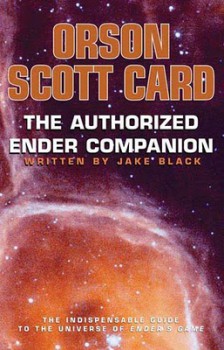 The Authorized Ender Companion
Jake Black
Tor (432 pp, $27.99, November 2009)
Reviewed by Andrew Zimmerman Jones
One of my most prized possessions is a signed hardcover copy of Orson Scott Card's Hugo and Nebula award winning Ender's Game. Before the signature, Card inscribed "A survival guide for geniuses." This is a wonderful tagline for Ender's Game, which has spoken to a full generation of science fiction fans. Now, Jake Black has written a complete and authorized companion to the set of nine (so far) novels and assorted short stories – the Enderverse, as it is known to fans.
The bulk of The Authorized Ender Companion is taken up by the 315-page "Ender Encyclopedia," which lists every individual, place, or thing that shows up anywhere in the Enderverse. This ranges from the detailed (a 15-page entry on Bean and 20-page entry on Ender) to the passing (such as the one-line entry that reminds us all what a "barkdancer" is). Probably one of the best entries is the 3-page lexicon of Battle School Slang.
The end of the Encyclopedia lists all of the sources, which is very helpful for those of us who haven't yet read all of the short stories, followed by a couple of pages of "Ender's Time Line" which, while interesting, is in print that is so small you may need a magnifying glass. (Note: I read an advanced review copy, so hopefully some sane editor will decided that this must be enlarged for the final edition.) Beyond the Encyclopedia, however, are some of the more substantive aspects of this book and the ones that fans should really be looking forward to.