Birthday Reviews: Jack Wodhams's "Freeway"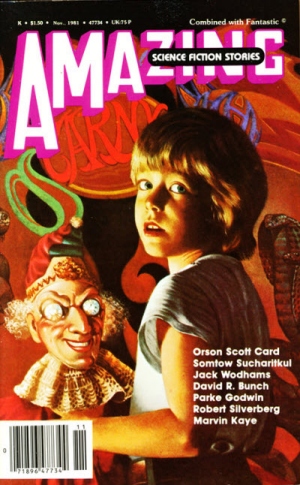 Jack Wodhams was born on September 3, 1931 he died on August 3, 2017.
Wodhams has been nominated for the Ditmar Award eight times, twice for short fiction and six times for novels, however he has not won the award.
The story "Freeway" has only been published once, when Elinor Mavor printed it in the November 1981 issue of Amazing Stories Combined with Fantastic.
The narrator in "Freeway" learns that he has an amazing power when he is driving in his native Australia and finds himself daydreaming about England. As he drives he suddenly realizes that he and his car have inexplicable transported to England, and he is driving along British highways towards London. He immediately heads to Fleet Street to tell his story to the newspapers, selling the Daily Express exclusive rights. Unfortunately for him, while he counted on the money, he didn't count on the scrutiny he would be placed under. When the newspaper decided to recreate his time from his arrival in England, he allows himself to daydream and suddenly is driving through France.
As the narrator moves from country to country, Wodhams shows different reactions to his abilities, which are never explained or even fully tested. In France he is treated like someone who may be insane until he takes his captors with him when he transports to San Francisco, sure of his ability even if he doesn't understand why. In the US, he finds himself on a publicity tour culminating in a planned attempt to transfer himself, resulting in both himself and the television van tailing him appearing back in Sydney. Life isn't just easy and he finds himself in physical danger when a murderer decides he would be a ticket away from the police.
For the most part, Wodhams plays the story as a lighthearted jaunt, as his narrator goes from place to place, trying to regain his anonymity, and accidentally bringing others with him, despite his best intentions. There is an underlying humor to the story, although no overt jokes. In fact, from the vantage of 2018, perhaps the most unintentionally funny line in the story, in reference to America is "They'd even heard of Rupert Murdoch," four years before Murdoch would acquire US citizenship and Twentieth Century Fox.