Birthday Reviews: Jack Williamson's "The Cold Green Eye"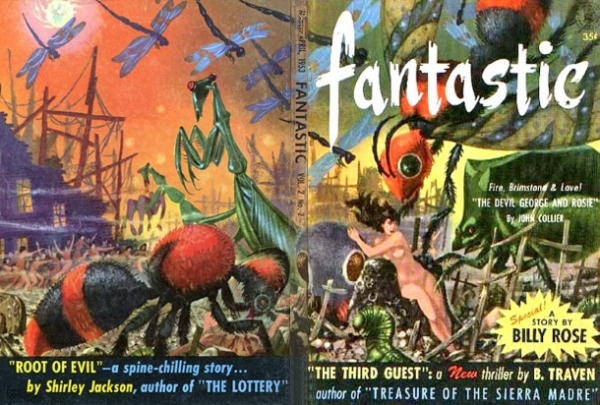 Cover by Richard Powers
Jack Williamson was born on April 29, 1908 and died on November 11, 2006.
Williamson famously traveled from Arizona to New Mexico in a covered wagon when he was 7 years old. He went on to publish science fiction, beginning when he was twenty. Over the years, he frequently collaborated with Frederik Pohl and occasionally with James Gunn, Edmond Hamilton, and Miles Breuer.
Williamson received the Hugo Award for his autobiography Wonder's Child: My Life in Science Fiction. He won a second Hugo, as well as his only Nebula Award, for his story "The Ultimate Earth." His novel Terraforming Earth received the John W. Campbell Memorial Award.
Williamson is also the recipient of numerous lifetime achievement awards. He has received them from the Writers and Illustrators of the Future, the Pilgrim Award, the Forry Award, the Bram Stoker Award, and the World Fantasy Award. He received the Skylark Award from Boskone and the Robert A. Heinlein Award from the Heinlein Society. In 1968, he was inducted into the First Fandom Hall of Fame and into the Science Fiction Hall of Fame in 1996. In 1976, he was named the second SFWA Grand Master. Worldcon recognized him with the Big Heart Award in 1994.