Random Reviews: "JackBack" by J. Scott Crawford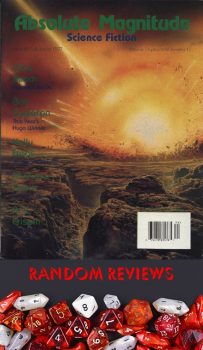 "JackBack," was the "Newcomer's Corner" featured short story in the Fall/Winter 1997 issue of Absolute Magnitude. It appears it may not only have been newcomer J. Scott Crawford's debut short story, but also, apparently, his last short story.
Set in a future Atlanta, Tyler Underwood is a security specialist who has been called to install a system for a celebrity who had chosen to live in Cummings, Georgia, which Underwood considers to be the most dangerous suburb in Atlanta, outside the Perimeter, the area of Atlanta in which he felt safe.  The story of his drive home is juxtaposed with the description of a sales call for JackBack, a car security system that ensures people are able to recover their stolen vehicles, which Crawford portrays as a major issue in his Atlanta.
Underwood's story is about his attempt to get home from this installation. Driving a Jaguar, he knows that his car is a target for every carjacker on the road. When his on-line communications system shut down, his concern, possibly paranoia, kicks in as he tries to make it to an area he considers safe. As he drives, he focuses his attention on a Camaro that seems to be trailing him, making his drive home a race to safety, at least in his own mind.
Against this, the details of the JackBack story line provides support for the danger that Underwood perceives, at least so far as the maker of the JackBack device want to promote the need for drivers to make use of their services. While Underwood's story focuses on his drive home, the JackBack story includes sections dealing with a sales spiel to a new car owner, a flashback to a previously retrieved car, and, eventually, a tie in to Underwood's drive home.