Birthday Reviews: Fredric Brown's "It Didn't Happen"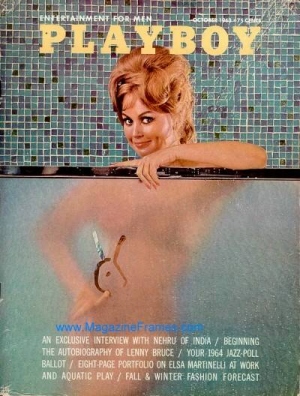 Fredric Brown was born on October 29, 1906 and died on March 11, 1972.
Although Brown has been nominated for four Retro Hugo Awards (twice in 1996 and twice in 2018), he was deemed deserving of renewed attention and received the Cordwainer Smith Rediscovery Award in 2012. In addition to writing short fiction and science fiction novels, Brown also wrote numerous mysteries and his novel The Fabulous Clipjoint earned him an Edgar Award for Best First Mystery Novel. His story "Arena" was adapted into the Star Trek episode of the same name, and several other stories of his have been adapted for television and film, including a cinematic version of Martians Go Home which should be avoided. Brown occasionally collaborated with Carl Onspaugh, Fritz Leiber, and Judith Merril, although his most frequent collaborator was Mack Reynolds.
Brown first published "It Didn't Happen" in the October 1963 issue of Playboy. It was reprinted in the Playboy science fiction anthology Transit of Earth in 1971 and in 1973 was included in Fredric Brown's collection Paradox Lost and Twelve Other Great Science Fiction Stories. The story showed up in subsequent Brown collections The Best of Fredric Brown and From These Ashes: The Complete Short SF of Fredric Brown, as well as the Wildside Press megapack #33, focusing on Brown. The story has been translated for French and Dutch editions of Paradox Lost and into Italian, by Giuseppe Lippi, for an original Italian collection by Brown called Cosmolinea B-2.
"It Didn't Happen" is one of those stories which has always stayed with me. It is about Lorenz Kane, who has become convinced that he is the only person in the world. In Kane's view, everyone else is simply a manifestation of his imagination. Kane's viewpoint is put to the test when he shoots and kills a stripper who rejects his advances and finds himself in jail awaiting trial. Despite this, he still thinks he is on the right track. As he explains to his attorney, he began to think other people didn't exist when he accidentally killed a girl on a bicycle and when he reported it to the police, she had completely vanished. He tested his theory by murdering someone, who similarly seemed to have ceased to exist.
Kane relates his theory and his guilt to his attorney, who listens intently, not dismissing any of the craziness Kane brings up. The fact that Brown includes scenes of the attorney apart from Kane indicates that Kane's theories are incorrect and that he is not the only person who actually exists. Kane's discovery that killing the stripper has consequences also indicates to Kane that he is wrong, but rather than assume his subconscious is punishing him for murdering her, he simply revises his solipsist theory of existence.