Universal Classic Monsters: The Essential Collection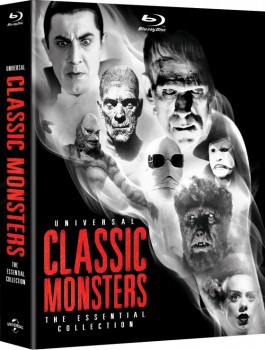 This year, the home video divisions of all the major distributors banded together and plotted a full-scale assault on the wallets and bank accounts of Blu-ray owners during September and October. Only the wealthiest could possibly survive an attack that began with the first Hi-Def release of the Indiana Jones films. But the supreme weapon, the ultimate October Surprise, is Universal's huge ebony slab of fear, nostalgia, and latex make-up: Universal Classic Monsters: The Essential Collection. Spanning twenty-three years and nine films (advertised as eight, sorry Spanish Dracula), the long-anticipated set brings the Masters of Halloween into glorious 1080p for the first time, and in perfect seasonal position to drain your money before you waste it on a Jack Sparrow costume that forty other people are also going to wear to that same party.
Few movie series have had such an impact on filmmaking and popular culture as Universal's stable of ghouls. They are as much a part of Halloween as Pixie Styx and pumpkin carving. I can't imagine there are Blu-ray owners with any shred of geek cred out there who won't want to add this to their shelves. When I received mine in the mail, I rejoiced at the anticipation of a week full of evenings revisiting some of my favorite movies in beautiful restored editions. The box set did not let me down—except for the one film that doesn't really belong on it, but I anticipated that.
Universal Classic Monsters: The Essential Collection comes packaged in a black slipcase with a side-bound color booklet of trivia. The eight discs contain Dracula (1931), the Spanish-language Dracula, Frankenstein, The Mummy, The Invisible Man, Bride of Frankenstein, The Wolf Man, the 1943 color re-make of The Phantom of the Opera, and Creature from the Black Lagoon.
Taking the discs in chronological order, as I did during the week: