Is the Grail a Force For Evil? Understanding Indiana Jones and the Last Crusade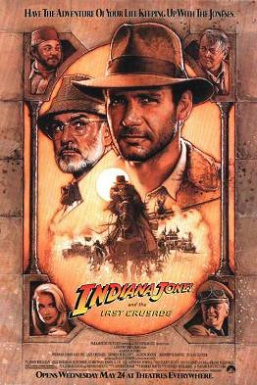 The Holy Grail – purportedly the last cup that Christ drank from, echo of the zombie-making Cauldron of Rebirth – is it actually a force for evil?
Until the 20th century, its main fictional outing was in the King Arthur cycle when its effect on the Round Table is akin to introducing the knights to crack-cocaine: the fellowship scatters, those who achieve the quest – the best knights – go straight to Heaven (read, die), Lancelot gets badly injured, and Britain ends up littered with the graves of knights who would be more useful protecting the realm from the King's enemies.
Then we come to Indiana Jones and the Last Crusade.
I'm looking at Pulp and Pulp-inspired stores because I'm working on a retro-Space Opera, provisional title "The Eternal Dome of the Unknowable" (Sarah, this is ALL your fault). What better quest story to unpack than this classic Indy adventure?
What I found is rather odd.
Here's the plot — I've added story questions in the form Question Answer But Now…