Birthday Reviews: Lynn Abbey's "In the Bleak Midwinter"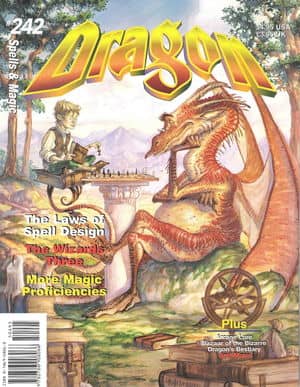 Lynn Abbey was born on September 18, 1948.
Abbey was nominated for the John W. Campbell Award for Best New Writer in 1980 following the publication of her first novel, Daughter of the Bright Moon, and a story in the first Thieves' World anthology. Abbey was married to Robert Lynn Asprin, the creator and editor of Thieves' World from 1982 until 1993, during which time she became his co-editor on the series. Abbey attempted to revive the series with the novel Sanctuary in 2002, following up with two additional anthologies. In addition to her own original novels, Abbey also wrote several novels in TSR's Forgotten Realms and Dark Sun settings.
"In the Bleak Midwinter" was originally published in issue 242 of Dragon in December 1997, when the magazine was being edited by David Gross. It has not been reprinted, but is connected to Abbey's novel The Simbul's Gift.
"In the Bleak Midwinter" is set in TSR's Forgotten Realms milieu, although not intrusively so. Ignoring a few minor references to locations, it could as easily have been set anywhere. In the beginning the story seems to focus on Caddo and Burr, an innkeeper and a dwarf who works for him. The two are staffing the bustling tavern during a raging blizzard, but Burr is well aware that once the blizzard hits is height he will feel a compulsion to leave the safety of the building and go in search of an ice cave that only forms under certain conditions. When a stranger enters the tavern, Burr learns that she is in search of the same cavern and he offers to help her, in return for which he only wants one item that is in the cave.
Abbey subverts the standards of this type of story by having Rekka decline the dwarf's offer, leaving him behind to explore the cave on her own. Through the course of the story, Abbey not only explores a little of Rekka's past, noting that she has acquired eternal life and is using her time to track down magical items for her personal collection, although little else interests her, as well as the ancient history of the magician Ffellsil, who has been buried in the cave for the past two millennia, and the lost civilization of Netheril to which he belonged.