Birthday Reviews: Iain M. Banks's "A Gift from the Culture"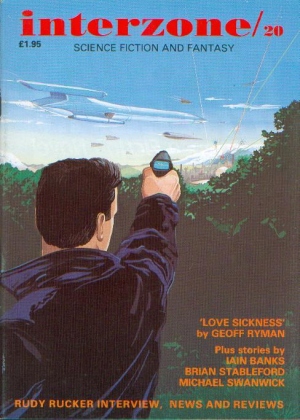 Iain M. Banks was born on February 16, 1954 and died on June 9, 2013. At the time of his death, two months after he was diagnosed with cancer, he was the Author Guest of Honor for Loncon 3, the seated Worldcon. Banks wrote both within the genre and outside the genre, using his middle initial, "M." do designate science fiction works.
His first three books, beginning with The Wasp Factory, were more mainstream, although two of them, The Bridge and The Wasp Factory, would go on to win the Kurd-Laßwitz-Preis. Banks has twice won the British SF Association Award for Best Novel for Feersum Endjinn and Excession. The latter also earned him an Italia Award and another Kurd-Laßwitz-Preis. His fourth Kurd-Laßwitz-Preis was for Use of Weapons, while Inversions earned him another Italia Award. Many of his works are set against the background of The Culture, an advanced society made up of several interbred species combined with sentient AIs.
"A Gift from the Culture" was originally published in the Summer 1987 issue of Interzone, number 20, edited by Simon Ounsley and David Pringle. Banks included it in his 1991 short story collection The State of the Art. It was later included in the anthology Cyber-Killers, edited by Ric Alexander, and David G. Hartwell included it in The Space Opera Renaissance. Most recently, it was reprinted in Ann and Jeff VanderMeer's massive anthology The Big Book of Science Fiction: The Ultimate Collection. The story has also been translated into German, French, and Italian.
In "A Gift from the Culture" Banks presents just enough information about what the Culture is so the reader is not at a complete loss, but the society as a whole remains something of a mystery within the confines of this short story. Wrobik is down on his luck and living in Vreccis Loew City, in debt to a couple of mobster types, Kaddus and Cruizell, who are willing to forgive him his debt if he'll do one little thing for them. With no good choices before him, Wrobik agrees to take a gun, which is designed to only work for people who are biologically part of the Culture, and use the weapon to shoot down an incoming space craft.
One of the main deciding points for Wrobik is concern that Kaddus and Cruizell will harm Maust, Wrobik's boyfriend. While Wrobik has a job to carry out, he doesn't particularly want to do it and tries to figure out a way around it which will not put Maust into danger. While the story is a dramatic look at Wrobik's choices, an understated humor is introduced by the monologue carried out by the gun, in which it continuously describes itself and how to use it to Wrobik, an audio instruction manual.