Birthday Reviews: Cleve Cartmill's "Huge Beast"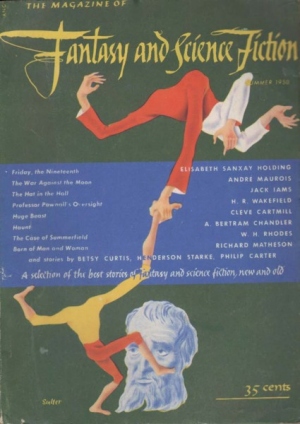 Cleve Cartmill was born on June 21, 1908 and died on February 11, 1964. Cartmill also used the name Michael Corbin, when he had two stories appearing in the same issue of Unknown Worlds in 1943.
He is perhaps best known for his story "Deadline," which appeared in the March 1944 issue of Astounding Science Fiction. The story was discussed at Los Alamos, where Edward Teller noted that Cartmill had described aspects of their research in detail. The discussion led to an FBI investigation into Cartmill, Campbell, and some other science fiction authors. Cartmill is said to have had a low opinion of the story, himself.
"Huge Beast" was originally published in the Summer 1950 issue of The Magazine of Fantasy and Science Fiction, edited by Anthony Boucher and J. Francis McComas. They included the story in The Best of Fantasy and Science Fiction in 1952, when the magazine was only three years old. In 1953, the story was translated and published in the first issue of the French magazine Fiction.
Loren Prater is working in his lab when a small creature suddenly materializes in front of him. At first taken for an animal, the alien quickly announces that he is a golen from a distant planet who has sought out Prater as the only person who can help his race avoid extinction.
The golen is an adorable creature and Prater can't but help to reach out and scratch the creature's ears. The golen, in return, is not only able to teleport (wirtle), but it can also share almost holographic imagery with Prater, showing the scientist the golen home world as the golen explains their ecological disaster. The golen's story of the invading Hugh Beasts doesn't quite add up and Prater realizes that the golen is trying to gain Prater's assistance to annihilate mankind. The story then comes down to whether Prater can outwit the golen or if the golen can trick Prater into helping it.