As Gritty As It Gets: The Ashes of Berlin by Luke McCallin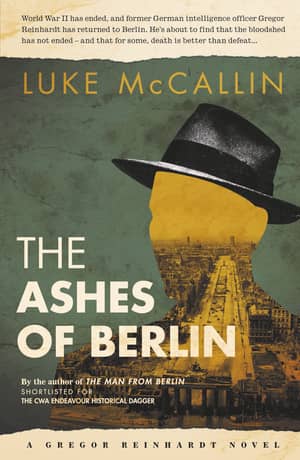 Berlin, 1947.
The city is in ruins and divided between American, British, French, and Russian sectors. German war veteran and police detective Gregor Reinhardt is trying to reassemble his life but, like his city, it's been smashed into too many pieces.
Not only does he have to contend with the loss of his family and his home, but also guilt over the war and the politics of a police department in which everyone has a sponsor among one of the occupying powers and geopolitics gets played out in the office.
And now he has a serial murderer on his hands, one who shoves sand or water down his victim's throats in order to suffocate or drown them. Throw in some unrepentant Nazis and a frighteningly efficient Soviet officer, and Reinhardt is up for a long case.
I found this book by accident while browsing through my local bookshop and it's the best mystery novel I've read all year. McCallin is a master storyteller who evokes the grim, surreal landscape of postwar Berlin.
As he takes us along on Reinhardt's case, we get to experience the sights, sounds, and even the smells and tastes of a once-proud city trying to dig itself out from disaster. The author has clearly done his homework and we learn all sorts of fascinating details about life for regular Germans after the war and the politics of the four "Allied" powers ruling Germany.