Birthday Reviews: Brad Strickland's "Hero's Coin"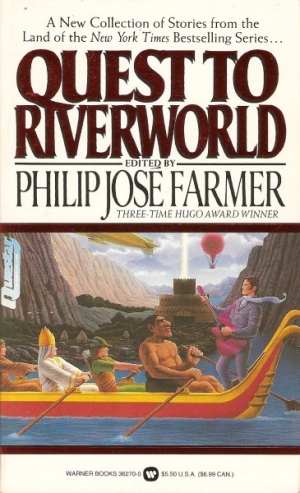 Brad Strickland was born on October 27, 1947.
Strickland received a Phoenix Award at DeepSouthCon. In 200, he won the Georgia Author of the Year Award for his novel When Mack Came Back. He has collaborated John Michlig, Thomas E. Fuller, and his wife, Barbara. Strickland has also completed several novels which were originally outlined by John Bellairs prior to his death.
"Hero's Coin" was written for the 1993 anthology Quest to Riverworld, edited by Philip José Farmer. This was the second volume in which Farmer opened up his Riverworld series to other authors. The story has never been reprinted.
Because all of the stories in Quest to Riverworld took place in Farmer's established universe, the was no need for Strickland to explain the rather strange setting. Read without the context of the other stories or Farmer's original work, however, the story suffers from vagueness brought on by its expectation that the reader knows how the world works. Had Strickland included that background, however, it would have seemed repetitive in the story's original (and only) publication.
Farmer's world contains a seemingly-infinite river along the banks of which everyone who has ever lived has been reincarnated, their needs provided for by a grail which fills with food. Strickland's story focuses on Brother Aelfstan, an anonymous Anglo-Saxon monk who worked on a chronicle of his times in both our world and the Riverworld. Aelfstan makes friends with a stranger who was reincarnated near his part of the river and the two eventually set off together.
As the stranger, who Aelfstan calls "Nemo" helps people during their journey, with technological innovations, military decisions, and in other areas, the people they meet assume he must be Robert E. Lee, Archimedes, and other famous people in history. Nemo denies being any of them and questions Aelfstan about what makes a hero, emphatically denying he was any such.