Birthday Reviews: Neil R. Jones's "Hermit of Saturn's Rings"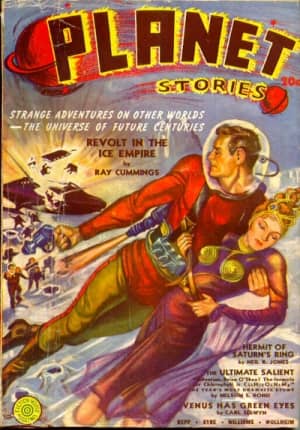 Neil R. Jones was born on May 29, 1909 and died on February 15, 1988.
Jones was inducted into the First Fandom Hall of Fame in 1988 at Nolacon II. Jones published more than twenty story in his long-running Professor Jameson series, which were eventually collected in five volumes. A second series, the Durna Rangue stories, were published concurrently with the Jameson tales. Jones may have been the first author to use the word "astronaut" in fiction in his debut story, "The Death's Head Meteor."
Malcolm Reiss purchased "Hermit of Saturn's Rings" for publication in the Fall 1940 issue of Planet Stories. A decade later, Donald A. Wollheim included it in his anthology Flight Into Space. It was selected for inclusion in American Science Fiction #6 in 1952. In 1975, Michael Ashley chose "Hermit of Saturn's Rings" to represent Neil R. Jones's career in The History of the Science Fiction Magazine: Volume 2: 1936-1945. It was also translated into German and published in 1957 in Utopia Science Fiction Magazin #6 and again in 1973 in Science-Fiction Stories 21, edited by Walter Spiegl.
The protagonist of Jones's "Hermit of Saturn's Rings" is atypical in science fiction. Among the first things Jones reveals about Jasper Jezzan is that he was on the first expedition to Mars, had traveled throughout the explored system, and was now on the first expedition to Saturn. The thing that sets Jezzan apart from so many other characters in science fiction is that when the story begins, he is more than 70 years old.
Shortly after beginning to traverse Saturn's rings, the ship Jezzan is on finds itself facing a strange white cloud. Jezzan is separated from the rest of the crew and when he rejoins them, he discovers that the white cloud has killed everyone it could get to. Jezzan must learn how to avoid the strange creature that lives in Saturn's rings and live as a futuristic Robinson Crusoe, making a home for himself first aboard his ship and later inside a hollow rock in Saturn's rings.