Birthday Reviews: Allan Weiss's "Heaven and Earth"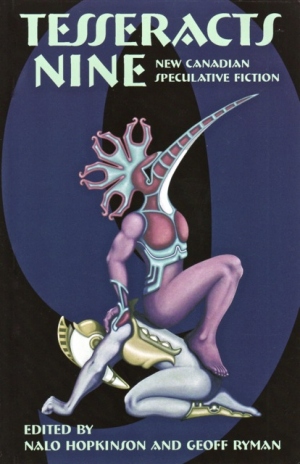 Allan Weiss was born on October 23, 1939.
Weiss has twice been nominated for the Aurora Award. His first nomination was in 1993 for his short story "Ants," in the Best Short Form in English category. He received a second in 1996 when he was nominated with Hugh Spencer for Best Other Work in English for "Out of This World," an exhibit they produced at the National Library.
"Heaven and Earth" was published in Tesseracts Nine in 2005. The volumes was co-edited by Nalo Hopkinson and Geoff Ryman. The story has not been reprinted.
Steven is part of a team exploring an alien life form dug up on a distant planet. His description of the study is interspersed with memories of his Uncle Martin, who helped raise Steven during and after his parents' divorce, teaching him both the study of Judaism and Talmud and how to espouse atheism, which are by no means mutually exclusive.
Steven's relationship with his uncle is the strongest one in the story, although it is mirrored by his relationship to fellow-scientist Kelly Defalco, who refuses to give him straight answers about her own theories and research and causes him to question his own assumptions, just as Uncle Martin did when he was younger. This questioning becomes important when the evidence before his eyes regarding the physiognomy of the Castormondian alien species seems to contravene everything about biology that he knows from a lifetime of studying humans.