Michael Moorcock on the Birth of Hawkmoon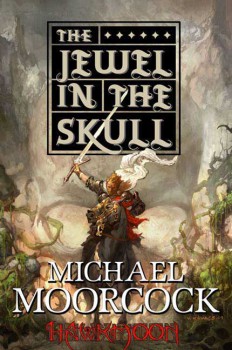 Last week Tor.com ran a terrific article by Michael Moorcock about the origins of his (recently reprinted) Hawkmoon stories. In 'The Genesis of Hawkmoon' Moorcock talks about method, motive, and how the big cultural changes of the sixties heavily influenced his work. Firstly, the man's writing MO is legendary, and he wrote fantasy fiction with a journalistic mindset: fast with no revisions. The political elements of Hawkmoon, in which a far-future Britain is the 'Dark Empire' opposed by a German hero, was a direct protest of the lingering prejudice and division left over from WWII in England. Moorcock sees the books, and himself, as a product of the times — and the times they were a' changing.
Finally, Moorcock expresses his quiet astonishment over the longevity of Hawkmoon and all the Eternal Champion stories, and remarks "Not bad, I guess, for twelve days hard work!"
No, Mr. Moorcock, not bad at all.