Birthday Reviews: Greg van Eekhout's "Native Aliens"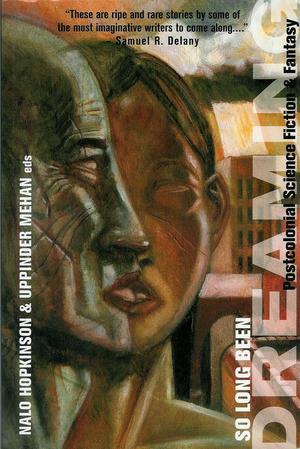 Greg van Eekhout was born on January 25. His first story appeared in the anthology Starlight 3 and his first novel, Norse Code, in 2009. Van Eekhout was nominated for a Nebula Award for Best Short Story in 2005 for "In the Late December," and received a Golden Duck nomination in 2011 for Kid Vs. Squid. In 2012, his novel The Boy at the End of the World was nominated for the Andre Norton Award.
"Native Aliens" was originally published in 2004 in the anthology So Long Been Dreaming: Postcolonial Science Fiction and Fantasy, edited by Nalo Hopkinson and Uppinder Mehan. Van Eekhout included it in his collection Show and Tell and Other Stories two years later and it was reprinted again in 2013 in Aliens: Recent Encounters, edited by Alex Daily MacFarlane.
"Native Aliens" tells two stories in parallel. One focuses on a Dutch colonial family living in Indonesia in the 1940s. Although the family has been there for generations and has intermarried with the Indonesians, they still consider themselves Dutch even though Indonesia is the only home they've ever known. As a result the father is forced to run a gauntlet after the Indonesian Revolution in the second half of the 1940s.
The other story looks at a group of humans who have colonized the world of Breva and who are about to be sent back to Earth. While the Dutch family looks like Indonesians and only know life there, the humans on Breva have been genetically modified to resemble the Brevans, making their return to their native world that much more problematic.
While van Eekhout explores the Brevan-Terran plans to repatriate themselves to the planet of the ancestors, he simultaneously shows us the Dutch family's attempts to assimilate into Dutch, and later American, culture. Van Eekhout offers an intriguing view of colonization and its effects by focusing on those who are native to the land but still identify with, or are identified as, the colonizing power, without having any experience with the land from which their ancestors came.
Perhaps most poignant is the tale of the son of the character who experienced upheaval in Indonesia and the Netherlands, whose attitude directly leads to the issue facing the Brevan-Terrans centuries later. Fourteen years after its initial publication, when the US government is discussing, or refusing to discuss, the plight of the "Dreamers," the van Eekhout's story seems more pertinent than ever.