Birthday Reviews: Geoffrey A. Landis's "Impact Parameter"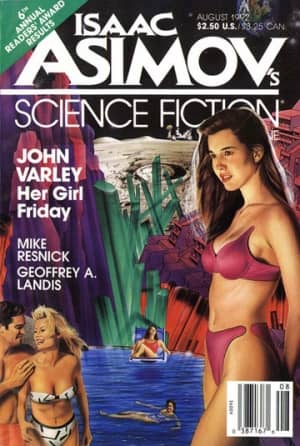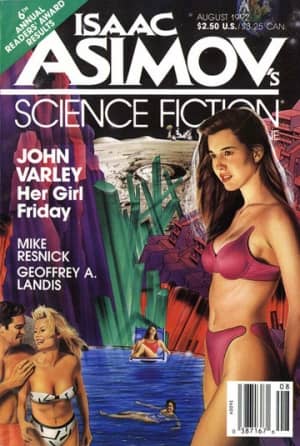 Geoffrey A. Landis was born on May 28, 1955.
Landis won the Nebula Award for Best Short Story in 1990 for "Ripples in the Dirac Sea," which was also nominated for a Hugo Award. He went on two win Hugo Awards for his short stories "A Walk in the Sun" and "Falling onto Mars." His story "The Sultan of the Clouds" received the Theodore Sturgeon Award in 2011. Landis has also won the Rhysling Award for his poems "Christmas (after we got time machines)" and "Search" as well as a Dwarf Star Award for his poem "Fireflies." In 2014, Landis received the Robert A. Heinlein Award from the Heinlein Society.
In addition to writing science fiction, Landis works as a scientist for NASA, specifically working on ways to improve solar cells and photovoltaics. In this capacity Landis was part of the Mars Pathfinder team, working to make sure that planetary dust was kept off the solar arrays.
"Impact Parameter" was originally published in Isaac Asimov's Science Fiction Magazine, edited by Gardner Dozois, in the August 1992 issue. It was translated into German for an appearance in the magazine's German language edition in 1994. Landis included it as the title story in his collection Impact Parameter and Other Quantum Realities published by Golden Gryphon in 2001.
SETI, the search for extraterrestrial life, has got to be one of the most disheartening investigations for a scientist. In the decades the search has been occurring, nothing conclusive has been discovered. Landis alludes to this in "Impact Parameter" when Ben notes how many of his fellow astronomers have turned their attention to other fields. A strange anomaly he notices when trying to calibrate a telescope leads him to the discovery of an Einstein lens and comparing notes with other astronomers leads them to realize that a black hole is on target to strike Earth within only a few days.