Birthday Reviews: Frank Herbert's "By the Book"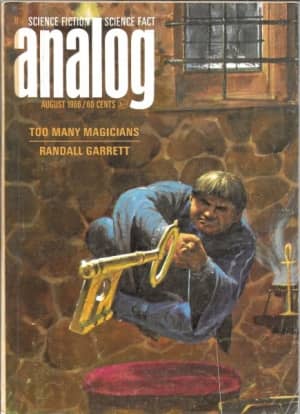 Frank Herbert was born on October 8, 1920 and died on February 11, 1986.
Herbert won the inaugural Nebula Award for Best Novel in 1966 for Dune, which also tied for the Hugo Award that same year. Dune would eventually also win the Seiun Award in 1974. Herbert's novel Hellstrom's Hive won the Prix Apollo in 1978. In 2006, Herbert was a posthumous inductee into the Science Fiction Hall of Fame.
Herbert's masterpiece, Dune, spawned five sequels written by Herbert and several additional novels written by his son, Brian Herbert, and Kevin J. Anderson. Dune has been filmed twice, once for theatrical release while Herbert was still alive and later as a miniseries.
Originally published by John W. Campbell, Jr. in the October 1966 issue of Analog Science Fiction Science Fact, "By the Book" was reprinted in 1971 in The Worlds of Frank Herbert and again in The Best of Frank Herbert. It was also included in the Herbert collections Eye and The Collected Stories of Frank Herbert. The story was translated into Croatian in 1978 for inclusion in the Yugoslavian magazine Sirius and into French in 1987 for the Hebert collection Champ Mental.
Despite being well past the age when he should be retired, Ivar Norris Gump has been summoned to the moon by his friend Poss Washington to help troubleshoot a problem. The story follows Ing, as Gump is known, as he tries to figure out what has gone wrong with the tubes and beams which propel interstellar travel. Ing and Washington are in constant communication, with Washington trying to balance the need to diagnose and fix the problem with the corporate bottom line.
Ing knows he was one of the best troubleshooters the company has and he has trained most of the troubleshooters who came after him. His mantra is to follow the rules laid out in the company manual and do everything "by the book." Ing needs to work fast because the first colony ship is approaching its target planet and the beam is designed to provide the infrastructure needed to ensure the colony is successful. Ing demonstrates that working within the confines of the book does not necessarily mean thinking linearly or traditionally and as he tackles the issues he faces, he comes up with not only potential solutions but also a manner of interpreting the rules to allow him to try them out.