Fantasyscapes 2: At the Crossroads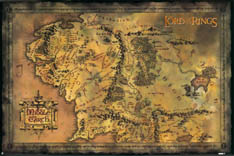 Let's take a walk.
I like to move when I think; exercise clears the mind and after all that time in the swamp, I think anyone would be grateful for a chance to stretch their legs.  We're taking this show, as the man says, on the road.
I thought this was going to turn out a lot easier than it has.  Fantasy, after all, is a genre all about journeys, both in the one simply walking into Mordor sense and the journey, comma, hero's sense.  The road leads ever onward, and one thing I've discovered in a gradual but gradually increasing pace and desperation, roads don't get as much love as I expected, and I think that's really unfortunate.
Road plays synecdoche for journey; for travel and conflict and development, and it does this so often that it's harder to find roads that are characters in their own right than I thought, even though they share a lot of characteristics in common.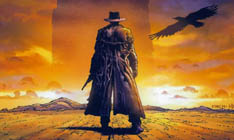 Roads are complex creatures, or, at least, they are more complex than they seem at first.  They come from a place and they go to a place and, in between, they pass through a lot of other places, and though that comes off as obvious to the point of being foolish to just say, it's the basis for what makes as road something special.