Birthday Reviews: F. Anstey's "The Adventure of the Snowing Globe"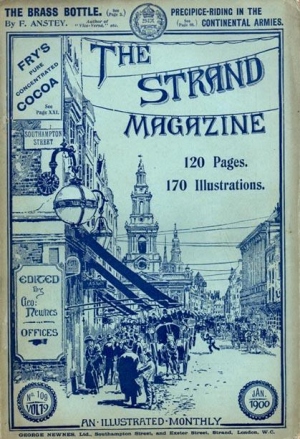 F. Anstey was born Thomas Anstey Guthrie on August 8, 1856. He began using the pseudonym F. Anstey after an editor included a typo in his byline, replacing his first initial with an F. He published under both the F. Anstey name and his own name. He died on March 10, 1934.
Trained as a lawyer, Anstey frequently used his legal background in his books and novels, most of which were humorous. He was a frequent contributor to Punch. In addition to fiction, he also produced plays. Over the years, many of his stories have been turned into films, most recently the 1988 film Vice Versa, starring Judge Reinhold and Fred Savage, based on his 1882 book of the same title.
"The Adventure of the Snowing Globe" was originally published in the December 1905 issue of The Strand Magazine, edited by George Newnes. The following year, Anstey included the story in his collection Salted Almonds. In 1996, Peter Haining chose the story for his anthology The Wizards of Odd: Comic Tales of Fantasy, which has been translated, along with the story, into German. Mike Ashley used the story in his 2012 anthology Dreams and Wonders: Stories from the Dawn of Modern Fantasy. In 2013, the story was translated into Russian for inclusion in an anthology.
Anstey's "The Adventure of the Snowing Globe" is almost a proof of the adage that to a man with a hammer every problem looks like a nail. Anstey's narrator is, like Anstey, a lawyer. When he is magically transported into a snowglobe where a princess is held captive in a castle by her evil uncle, who has set a dragon to guard her, Anstey's character resorts to legal means to free her, thinking of what motions he can file with the court, down to the level of naming the laws that he would bring to bear.
The princess, of course, understands the situation better than the attorney, but she can only conceive of a knight rescuing her and is tied into the paradigm as much as the narrator is tied to his legalistic one. The big difference, of course, being that the princess understands life within the snowglobe kingdom much better than the narrator does.
Anstey builds a divide between the princess and the lawyer by providing them with very different speech patterns. Both speak formally, but the princess and her seneschal speak in an archaic manner, while the lawyer speaks in an Edwardian manner, as if he were addressing a judge.