John Carter of Mars Post-Game: Six Reasons to Feel Better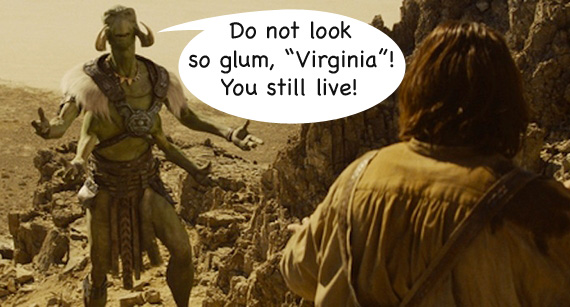 John Carter of Mars (yes, I have chosen to flat-out call the film by that name going forward, as per its end title card) drew in approximately $30.6 million in domestic box-office over the weekend according to online tracker Box Office Mojo. This is better than some of the gloomier Cassandra predictions, and even superior to the lowered tracking numbers from the days right before the film's release that pegged it at $25 million.
But I won't sugarcoat this for fans or lie based on my long experience tracking box-office results: these numbers do not augur well. (If you want to hear a more objective — and therefore grimmer — analysis, read Box Office Mojo's take on this. It isn't pretty.) The new film couldn't even best last week's #1 film, The Lorax, which held over to take the top spot despite a standard a 44% drop in attendance. It performed $5 million less than last year's Battle: Los Angeles, a more modest film that cost a third of John Carter of Mars's $250 million budget.
In the contemporary crowded marketplace, films live and die based on opening weekends. Only occasionally can a film continue to coast for weeks at a time on steady attendance. But this sort of support doesn't usually happen for big event films, which tend to be front-loaded. Smaller movies like The Help can get a slow-burn going, but not $250 million tent pole epics and hopeful franchise catalysts like John Carter of Mars.
The film did pull in an impressive $70 million at overseas markets, and in the long run the movie will turn a profit for Disney, albeit not a huge one. But the chance of us seeing Andrew Stanton direct The Gods of Mars feels remote at this point. Prince of Persia did similar numbers in 2010, with a $30 millions U.S. opening leading to a poor $91 million overall domestic gross, while pulling in big international coin — and you aren't hearing about a sequel to that coming out next year. Disney will probably announce during this week that they will go ahead with a John Carter sequel, but that's standard promotional talk to make a show to the public that the company has confidence in the film, and perhaps get a few more folks into the cinemas during the second weekend. Remember, Disney immediately announced a sequel to Tron: Legacy, and Warner Bros. for Green Lantern — and neither of those will happen.
At this point, the best hope that filmgoers have to see more Barsoom is for John Carter of Mars to keep steady attendance through the next few weeks. With The Hunger Games poised to take a big bite out of its demographic in two weeks, this battle will be fought uphill against a raging horde of warriors from Warsoon on thoat chargers.
But in the face of this negative news, there are some reasons for pulp literature, science-fiction, and fantasy fans to feel good about John Carter of Mars. Taking the path of the Stoic, I present six things to consider that might give you some cheer about the film's performance: