The Golden Age of Science Fiction: "giANTS," by Edward Bryant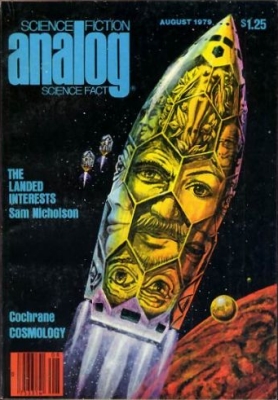 The Nebula Award was created by the Science Fiction Writers of America (SFWA) and first presented in 1966, when the award for Best Short Story was won by Harlan Ellison for "'Repent, Harlequin!' Said the Ticktockman." It has been given annually since then. Ed Bryant won the award in 1979 for his story "Stone" and again in 1980 for the story "giANTS," the first time an author won the award back-to-back.
Ed Bryant's "giANTS" is a strange work of almost fan fiction. It is set in a world in which them 1954 B movie Them! has taken on immense importance. Main character Paul Chavez dreams himself in the movie, with himself in the role of the protagonist, and upon waking has a difficult time separating reality from his dream. Chavez also finds himself the subject of a relentless reporter, Layne Bridgewell, who is seeking an interview with him, one he only begrudgingly gives.
It takes a while to determine the actual role of Them! in the story since it seems to be a film that Chavez and Bridgewell have both seen and are aware of. At the same time, there is definitely something occurring with insects throughout the world and Bridgewell has lost family to bees while Chavez's wife was killed by fire ants.
It eventually turns out that rather than being the nightmare scenario Chavez fears, Them! provides the solutions to the problem of a world in which normal insects run amok. Bryant cleverly takes the biggest scientific inaccuracy of the film and turns it on his head, allowing Chavez to realize that creating a means of increasing the insects size is the fastest way to destroy them, due to the square-cube law.