SFFWorld Announces Kickstarter for Ecotones Ecological SF Anthology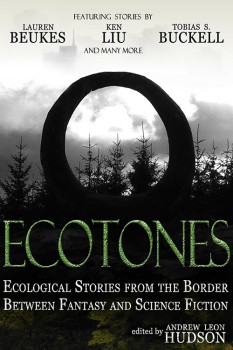 The folks over at SFFWorld are working on their latest in a series of themed "pro-am" anthologies. These anthologies bring together big names, rising stars, and relative unknowns around a common theme. This year's book, Ecotones, is taking a speculative look at ecological issues with stories by Lauren Beukes, Tobias S. Buckell, and Ken Liu. It will come out in December 2015. Other authors include Matthew Hughes, Stephen Palmer, Daniel Ausema, Victor Espinosa, Andrew Leon Hudson (also the editor), Kurt Hunt, Christina Klarenbeek, Jonathan Laidlow, Igor Ljubuncic, P. J. Richards, and Rebecca Schwarz.
(Full disclosure: Contributor/editor Andrew Leon Hudson is a friend of mine here in Madrid. He's also my most obnoxious beta reader, so he's serious about clean prose.)
You can check the project's teaser page to learn more about the stories, which appear to span the realm of speculative fiction from space opera to urban fantasy.
SFFWorld is trying to raise £1,000 to cover costs and pay the authors via a Kickstarter campaign. As inducements they're offering the anthology, plus bundles including their three previous anthologies and other goodies. Rewards start at the £3 mark, which is cheap for a Kickstarter. While the authors have already been offered a nominal fee, the Kickstarter is pushing for additional  £2,500 and £5,000 goals in order to pay them semi-pro or pro rates.
The Kickstarter is on for the entire month of November.
Click here to help the Kickstarter. Check the anthology's blog for more information and updates.
---
Sean McLachlan is the author of the historical fantasy novel A Fine Likeness, set in Civil War Missouri, and several other titles, including his action series set in World War One, Trench Raiders. His historical fantasy novella The Quintessence of Absence, was published by Black Gate. Find out more about him on his blog and Amazon author's page.