Birthday Reviews: Somtow Sucharitkul's "Dr. Rumpole"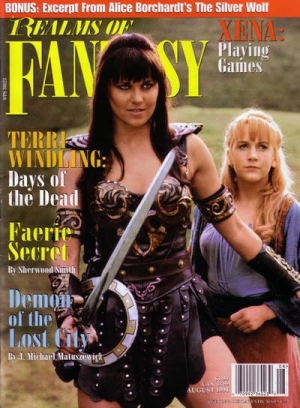 Somtow Sucharitkul was born on December 30, 1952. He also writes using the pseudonym S.P. Somtow. In addition to writing science fiction, Sucharitkul is a successful composer and conductor, including the opera The Snow Dragon, which debuted in Milwaukee in 2015, and five symphonies.
In 1981 Sucharitkul won the John W. Campbell Award for Best New Writer. He has published as both Somtow Sucharitkul and S.P. Somtow and won the World Fantasy Award for his novella "The Bird Catcher" in 2002. His short story "Brimstone and Salt" won the International Horror Guild Award in 1997. He has also been nominated for the Hugo Award twice, the Bram Stoker Award, and the Theodore Sturgeon Memorial Award. He also won the Silpathorn Kittikhun Award, presented by the Office of Contemporary Art and Culture of Thailand's Ministry of Culture. Sucharitkul was guest of honor at the 15th World Fantasy Con, held in Seattle in 1989.
The story "Dr. Rumpole" was published for the first time when Shawna McCarthy printed the story in the August 1998 issue of Realms of Fantasy. Sucharitkul included the story in his 2000 collection Tagging the Moon: Fairy Tales from L.A..
Sucharitkul takes a new spin on the story of Rumpelstiltskin in "Dr. Rumpole," casting the princess with the impossible task as Adam Villacin, a wannabe screenwriter stuck in the mailroom at Stupendous Entertainment. When he happens to meet the studio head in an elevator, his friend's fast-talking gets him an assignment as a script doctor. If he can't turn a turkey of a script into a hit overnight, he'll lose his job. Into this scenario comes Dr. Rumple, a mythic script doctor who can fix any script. However, he takes everything Villacin is paid for his scripts.
Just as Sucharitkul and the reader are aware that the story is a re-telling of the story of Rumpelstiltskin, the characters also compare their situation to the fairy tale. Knowing how the fairy ends, they also know what they need to do in order to avoid the threat that Dr. Rumpole could conceivably pose for Villacin and his friend/agent, Bobby Detweiler. The story works because Sucharitkul doesn't follow the formula slavishly. Rumpole's name doesn't matter, but it is when Villacin and Detweiler uncover his past that they figure out a way to get out from under his thumb.