Birthday Reviews: Tony Richards's "Discards"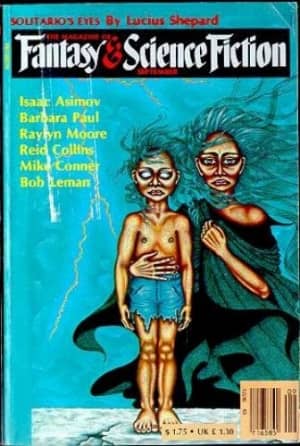 Tony Richards was born on June 3, 1956.
Richards was nominated for the Bram Stoker Award for his first novel, The Harvest Bride in 1988.  His collection Going Back received a British Fantasy Award nomination in 2008.
"Discards" originally appears in The Magazine of Fantasy and Science Fiction, where editor Edward L. Ferman published it in the September 1983 issue. The next year it was translated into Italian for inclusion in Urania #964. The British Fantasy Society included the story in the Spring/Summer 2004 issue of Dark Horizons. Richard used the story in two collections of his work that were published in 2008: Passport to Purgatory and Shadows and Other Tales. The following year it appeared in the anthology The 4th Book of Terror Tales, edited by John B. Ford and Paul Kane.
Richards breaks free from several of the expected norms of a speculative fiction short story, which sets it apart from most of what appears in the magazine. Robin Brookard was born into a middle class family, married, and had children, but what sets him apart is that he lost everything due to his addiction to alcohol. The story opens with him walking the streets of London trying to figure out where he is going to spend the night and realizing he'll either have to sleep outdoors or find his way to a hostel. His pride doesn't allow for the latter choice since it seems a more "official" acknowledgement of his state.
Brookard eventually finds a group of tramps gathered around a fire and he approaches them in hopes of keeping warm and finding some companionship. Something about the group doesn't strike him as quite right, however, and he is torn between joining them and keeping his distance, partly because of the sense of wrongness and partly because being accepted into their group means admitting that he can no longer find his way back to the life he once had.
The group's leader, known as Padre, explains to Brookard that gods are created and gain power when they have believers and indicates that the homeless of London, and in fact, the homeless around the world, have brought their own god into existence. The god he describes is a vengeful one, however, and their goal is to eventually overthrow the current world order. The introduction of the god of the homeless has an undertone of Lovecraftianism, but it doesn't quite lead down that path.