Birthday Reviews: Raymond A. Palmer's "Diagnosis"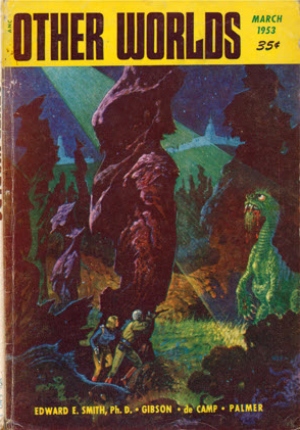 Raymond A. Palmer was born on August 1, 1910 and died on August 15, 1977.
Although Palmer wrote short stories and novels, he was best known as an editor. From 1938-1949, he edited Amazing Stories and from 1939-1949 he edited Fantastic Adventures as well for Ziff-Davis, resigning when they moved production from Chicago to New York. He formed his own company, Clark Publishing, and began publishing Other Worlds Science Stories from 1949 to 1957, during which time he also edited and published Fate Magazine, Universe Science Fiction, Mystic Magazine, Science Stories, and Space World. His assistant in the early 1950s, and often times credited co-editor, was Bea Mahaffey. Palmer is perhaps best remembered for publishing the fiction of Richard Shaver and promoting Shaver's stories as non-fiction. In 1961, comic author Gardner Fox paid tribute to Palmer by using his name for the DC character the Atom.
Palmer published "Diagnosis" in his magazine Other Worlds Science Stories in the March 1953 issue. The story has never been reprinted.
Donald Jensen and Mary Mason are working on experiments trying to map the subconscious to the conscious mind. Although both are brilliant scientists, Jensen still manages to be condescending to Mason and dismissive of her at times due to her gender. He also gives her a hard time about dating someone named Brannan. Mason puts up with his garbage, but at the same time she pushes back, reminding him that she is competent and capable and that what she does when she isn't working isn't really any of his business.
When they decide to reverse the experiment, and try to read Jensen's brain patterns instead of Mason's, the machine provides an actual picture of what he is thinking rather than simply the wavy lines that it usually reports and when it becomes clear to Mason that Jensen's subconscious is picturing her naked, she slaps him and the machine shorts out, leaving both of them unconscious. Upon awakening, they check the record and learn that Jensen's subconscious took them through a fantasy world adventure in which Dahnjen Saan had to rescue Marima Saan from the evil priest Bra Naan.