Birthday Reviews: Lisa Goldstein's "Death Is Different"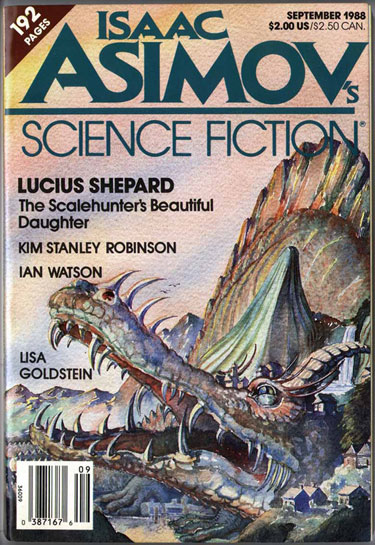 Lisa Goldstein was born on November 21, 1953. She has also published under the pseudonym Isabel Glass.
Goldstein won the Sidewise Award for Alternate History for her short story "Paradise Is a Walled Garden" in 2012 and the same year won a Mythopoeic Award for her novel The Uncertain Places. She was also a two-time nominee for the John W. Campbell Award for Best New Writer and has had works nominated for the Hugo Award, the Nebula Award, the World Fantasy Award, the Arthur C. Clarke Award, and the James Tiptree Jr. Memorial Award.
"Death is Different" was originally published in the September 1988 issue of Isaac Asimov's Science Fiction Magazine, edited by Gardner Dozois. The next year Ellen Datlow and Terri Windling included it in The Year's Best Fantasy: Second Annual Collection. It was also translated into Italian by Claudia Verpelli for the anthology Millemondiestate 1989: 3 Romanzi brevi e 9 Racconti. Dozois reprinted the story in his anthology Transcendental Tales from Isaac Asimov's Science Fiction Magazine and Goldstein included it in her collection Daily Voices, published by Pulphouse Publishing as the third volume in their Author's Choice Monthly series. The story was translated into French for inclusion in the 1991 anthology Territoires de l'inquiétude 3, edited by Alain Dorémieux. Goldstein also included it in her 1994 collection Travellers in Magic.
Monica is a reporter who has been sent to the third world country of Amaz to write a story. Although she has been warned to be careful by both her editor and her husband when she tries to report on the clash between Communist backed rebels and US backed government forces, when her local guide asks what she most wants to do, she tells him that she wants to meet with the rebel leader. Her guide sets up a meeting which she had deemed impossible, but the night before it is scheduled, she hears multiple reports that the leader had been killed.
When she fails to attend the meeting her guide is upset, letting her know that "Death is different" in Amaz. When she eventually follows his directions, she does meet with someone who claims to be Cumaq, the Communist leader, who speaks in riddles and won't answer her questions directly, including whether he is alive or not, although he does note that the rumors of his death were not exaggerated. Eventually she returns safely home, only to discover that while she was away her husband was killed in a car accident. Remembering what her guide says, she decides to return to Amaz to see if she can find him, only to discover that Amaz has a Brigadoon-like quality to it.