Birthday Reviews: Jerry Sohl's "Death in Transit"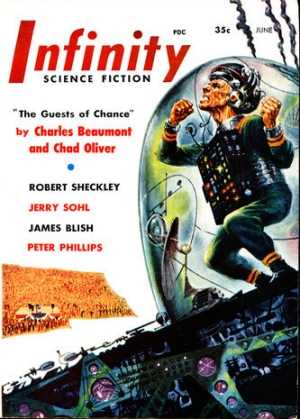 Jerry Sohl was born on December 2, 1913 and died on November 4, 2002.
In addition to science fiction, Sohl also wrote screenplays, including scripts for The Twilight Zone, The Outer Limits, and Star Trek, including the episodes "The Corbomite Maneuver," "This Side of Paradise," and "Whom Gods Destroy." His episodes of The Twilight Zone were ghostwritten for Charles Beaumont, whose failing health meant he couldn't deliver the scripts he had contracted for. He has published under the pseudonyms Nathan Butler and Sean Mei Sullivan as well.
"Death in Transit" was first published by Larry T. Shaw in the June 1956 issue of Infinity Science Fiction. It was first reprinted in 2003 in Sohl's posthumous collection Filet of Sohl: The Classic Scripts and Stories of Jerry Sohl. It was published again in Science Fiction Gems: Volume Fourteen, edited by Gregory Luce in 2018.
In 2016 the film Passengers posited a spaceship on a lengthy voyage. Anyone who has seen it will find Sohl's short story "Death in Transit" familiar.  The story opens with Sohl's pilot, Clifton West losing his wife, Karen, when she falls down a ventilation shaft on the spaceship one year into a ten year voyage. Although West tries to deal with his loss, the loneliness on the spaceship begins to gnaw at him. He begins to look at the records for the passengers to decide who to wake up for companionship. Although he knows he should wake a man, and even settles on George Hedstrom, he develops an infatuation for Portia Lavester and wakes her, knowing it is a bad idea.
Sohl does not portray West's actions as well-thought out and even as West tries to behave properly in light of what he did, trying to give Lavester the room she needs to get used to the idea that she has been awakened nine years earlier, West still comes across as creepy. When Lavester does begin to soften towards him, her response to him, even when she claims some affection, never seems quite right. She is aware that even if he hasn't physically touched her, he has still violated her. Writing in 1956, Sohl did not portray his lone starship pilot as a hero, but clearly shows the horror felt by Lavester at his actions.