Birthday Reviews: David Brin's "Just a Hint"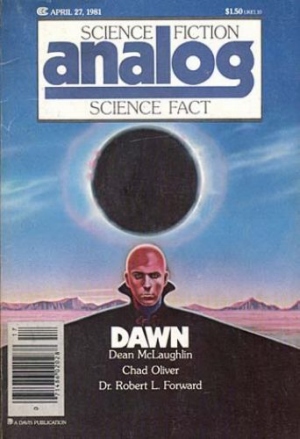 David Brin was born on October 6, 1950.
Brin won the Hugo Award and Nebula Award in 1984 for his novel Startide Rising. He subsequently won Hugo Awards in 1985 for his short story "The Crystal Spheres" and in 1988 for his novel The Uplift War. His novel The Postman won the John W. Campbell Memorial Award in 1986 and was turned into a film starring Kevin Costner. He won a coveted Balrog Award for The Practice Effect and the Hal Clement Award for Sky Horizon: Colony High, Book One. Infinity's Shore received an Italia Award. He has won the Seiun Award for translations of The Uplift War and Heaven's Reach. In 1998, LASFS recognized him with a Forry Award. Brin was an Author Guest of Honor at Nippon 2007, the 65th Worldcon in Yokohama, Japan.
"Just a Hint" was Brin's first published short story, appearing shortly after his debut novel, Sundiver. "Just a Hint" initially appeared in the April 27, 1981 issue of Analog Science Fiction/Science Fact, edited by Stanley Schmidt. The next year it was translated into German to appear in Analog 5, a collection of stories previously published in the American edition of Analog. Brin included it in his first collection Rivers of Time, originally published by Dark Harvest in 1986. It was translated into German a second time in 1989 to appear in the anthology An der Grenze, edited by Wolfgang Jeschke. In 2010 James L. Sutter included the story in Before They Were Giants: First Works from Science Fiction Greats.
Brin tells the story of two races, the human race and a race he calls sophonts. There is little action in the story, which is mostly talking between characters on the separate planets. On Earth, Liz Browning is a graduate assistant to Sam Federman. Sam is searching for intelligent life in the universe, but his real specialty is finding and maintain funding for his project while all around him money is drying up. On a distant planet, Fetham is decrying his loss of funding to bureaucrat Gathu. As with Federman, Fetham is also trying to reach alien races.
Each society has its own problems. Federman lives in a world in which the weather report is accompanied by statistics of the chance that the world will end in a nuclear conflagration before the year is out. Knowing that pollution was solved once the obvious steps were figured out, Federman hopes that an alien race might be able to share knowledge of what those steps would be for war.