Birthday Reviews: Dave Hutchinson's "The Trauma Jockey"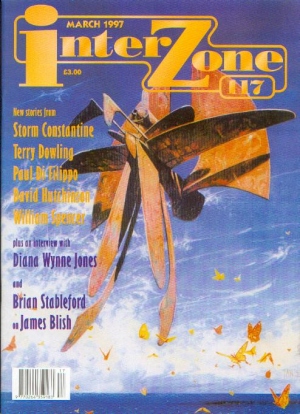 Dave Hutchinson was born on December 19, 1960.
Hutchinson's novel Europe in Autumn was nominated for the John W. Campbell Memorial Award, the British SF Association Award, and the Arthur C. Clarke Award, as was its sequel, Europe at Midnight. The volume Europe in Winter was the only one of the three nominated for the British SF Association Award, which it won in 2017. His short story "The Push" had been nominated for the award in 2010. Hutchinson co-edited the anthology Strange Pleasures 2 with John Grant.
"The Trauma Jockey" first appeared in issue 117 of Interzone in March 1997, edited by David Pringle. In 2000 Thomas Haufschild translated the story into German for inclusion in Wolfgang Jeschke's anthology Das Wägen von Luft. Hutchinson included it in his 2004 collection As the Crow Flies.
Hutchinson's main character is a "Trauma Jockey," someone whose job is to connect to a patient through a series of electrodes to take their emotional trauma away. Hutchinson opens the story by demonstrating how the process is supposed to work, with the trauma jockey siphoning the emotional pain away from Lucy Smith and then eventually downloading it into someone who has been so beaten down by the system that extra trauma doesn't impact him.
Once Hutchinson has established the normal methodology, his character is visited by a Mr. Jones, who wants to hire his services. It turns out that Jones is a sociopath and the process doesn't work the same way on him. Instead of downloading his emotions, he downloads images of people he has murdered. When the Trauma Jockey decides to go to the police, Jones threatens not only him, but his extended family, including his young nieces. Unable to turn to anyone for help, he must accept Jones's continued visits and the horrific images he shares, which gives Jones as much of a rush as the actual murders and sexual crimes.