Black Gate Interviews Howard Andrew Jones, Part One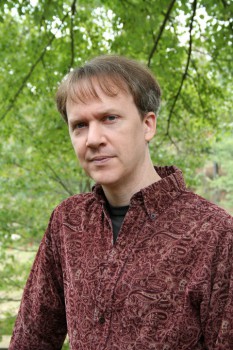 The great thing about interviewing Howard Andrew Jones is that it is impossible to run out of interesting things to talk about. That's because Howard has been busy. Busy writing stories, busy preserving the legacy of an unsung founder of historical adventure, busy editing Black Gate Magazine. And, oh yeah, busy writing and selling novels — his first two, the Dabir and Asim origin story The Desert of Souls, and Plague of Shadows for Paizo's new Pathfinder fiction line, are both due out this month!
In this first installment of a multi-part interview with Howard, he talks about his new Dabir and Asim novel and the relationship between historical and fantasy writing.
A Conversation with Howard Andrew Jones
Your Dabir and Asim stories are some of the most popular to be featured in Black Gate Magazine. For those readers perhaps still unfamiliar with them, what can one expect from a Dabir and Asim tale? More specifically, what is in store for readers that pick up Dabir's and Asim's first novel-length adventure, The Desert of Souls?
Mystery, adventure, swashbuckling swordplay, two brave friends standing against things man was not meant to know… to further sound like a radio announcer, there's all this and more! I think my two favorite descriptions about their exploits come from John O'Neill and Kevin J. Anderson. O'Neill described their tales as "something like Sherlock Holmes crossed with the Arabian Nights, except Watson has a sword," and Kevin J. Anderson wrote that the novel read "like a cross between Sindbad and Indiana Jones." There's a strong sense of the exotic, because I like to take readers to strange and colorful places, be it a haunted tower in the Baghdad night, or ancient ruins. I had a lot more room to spread out in the novel, so the readers are introduced to more figures from Dabir and Asim's world, including the brilliant Sabirah, Dabir's one true love, and the caliph himself.