Birthday Reviews: David Zindell's "Caverns"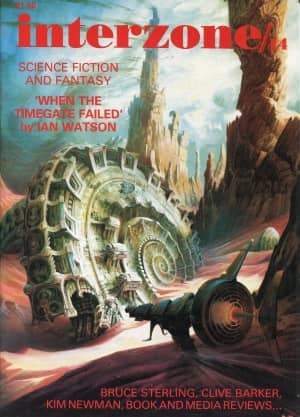 David Zindell was born on November 28, 1952.
Zindell was a first place winner of the 1985 Writers of the Future Third Quarter contest with the story "Shanidar," which Terry Carr subsequently selected for his Terry Carr's Best SF of the Year #15. The next year, he was nominated for the John W. Campbell Award for Best New Writer. His novels Neverness and The Broken God were both nominated for the Arthur C. Clarke Award.
"Caverns" was originally published in the Winter 1985/6 issue of Interzone, edited by Simon Ounsley and David Pringle. In 1987 it was translated into German for publication in Wolfgang Jeschke's anthology L Wie Liquidator. It has never been reprinted in English.
"Caverns" is a tragic love story between the narrator and his wife, Mary. The narrator has decided to undergo an experimental process of introducing neurophages into his system in order to take the next evolutionary leap. Mary is unwilling to participate in the experiment with him and the two grow apart through the story, which is told in alternating sections, some of which details his divergence from humanity and others which show his relationship disintegrating.
It is important to note that even the earliest parts of his human relationship are not particularly strong. It is clear that the narrator never really listens to what his wife is saying, although she also doesn't appear to be very good at communication. When she tells him she's pregnant, for instance, he's surprised at the news, but she seems to think he should have known without having to tell him. As the neurophages take hold, it becomes clear that even as he insists that he needs her, the two are leading parallel and only occasionally convergent lives. He loves not Mary, but his impression of who she is. Told from his point of view, Mary's needs can only be conjectured as she strives to give him what she thinks he might need, often to her own detriment and without actually understanding what he is looking for.