Birthday Reviews: Reginald Bretnor's "Cat"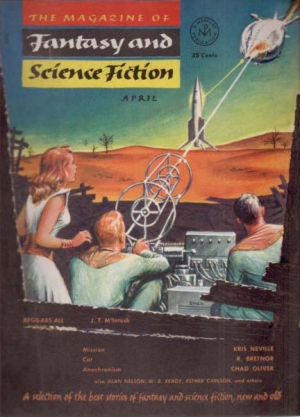 Reginald Bretnor was born Alfred Reginald Kahn on July 30, 1911 and died on July 22, 1992.
Bretnor's short story "Earthwoman" was nominated for the Nebula Award in 1968 and his story "The Gnurrs Come from the Voodvork Out" was nominated for a Retro Hugo in 2001. His non-fiction book Modern Science Fiction: Its Meaning and Its Future was nominated for a Retro Hugo in 2004. Bretnor may be best remembered for his series of short shaggy dog stories about Ferdinand Feghoot and published under the pseudonym Grendal Briarton, an anagram of Reginald Bretnor.
"Cat" was originally published in the April 1953 issue of The Magazine of Fantasy and Science Fiction, edited by Anthony Boucher and J. Francis McComas. It was translated into French as "Langue de chat" and published in 9th issue of Fiction in August 1954. Annette McComas included it in her 1982 anthology The Eureka Years and it was the first story in the Bretnor collection The Timeless Tales of Reginald Bretnor, edited by Fred Flaxman in 1997. The story also appeared in The Second Cat Megapack: Frisky Feline Tales, Old and New, edited by Robert Reginald and Mary Wickizer Burgess.
Reginald Bretnor's title "Cat" refers less to the animal and more to the language spoken by those animals, which Dr. Emerson Smithby and his wife, Cynthia, not only claim to have learned, but also claim they can translate and teach. Their claims wreak havoc for Professor Christopher Flewkes, the head of the language department at Bogwood College, who must try to maintain the college's reputation amidst Smithby's spectacular claims and the other professors' refusal to work in the same department as a man they view as a charlatan.
While "Cat" may not be as humorous as the Papa Schimmelhorn stories of the Feghoots for which Bretnor is best known, it does have its moments of humor as Flewkes and one of the professors in his department, Witherspoon, try to either expose Smithby or place him into compromising positions with the aid of a private investigator. In the end, their attempts to subvert Smithby and his wife prove to be their own undoing.