Birthday Reviews: Kage Baker's "Calimari Curls"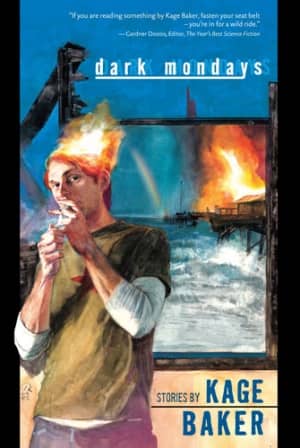 Kage Baker was born on June 10, 1952 and died on January 31, 2010.
In 1999, Baker was nominated for the John W. Campbell Award for Best New Writer. Baker won the Emperor Norton Award in 2003 for her story "A Night on the Barbary Coast." The next year she won the Theodore Sturgeon Award for "The Empress of Mars."  She received two nominations for the Mythopoeic Award, three nominations for the World Fantasy Award, and three nominations for the Hugo Award.  In 2010, she received for her second Nebula nomination and an Andre Norton nomination.  She won the Nebula posthumously that year for the novella The Women of Nell Gwynne's.
"Calamari Curls" was first published in Baker's collection Dark Mondays in 2006. In 2011, Ross E. Lockhart reprinted it in the anthology The Book of Cthulhu. Both of its first two appearances were published by Night Shade Books. In 2012, it was included in the Subterranean Press retrospective The Best of Kage Baker.
The small California oceanside community of Nunas Beach is a town that time had forgotten. Founded as a resort town in 1906, it grew with refugees from the San Francisco Earthquake, but quickly shrank again as people left to return to the rebuilt metropolis. The locals lived a quiet, unassuming life based around the ocean. Pegasus Bright, who had lost both legs in the war, ran the town's only restaurant, the Chowder Palace.
The town is limping along, figuratively (and literally, most of the townspeople seem to be missing at least one limb) when outsiders come in to turn the delapidated shell of a restaurant across the street from the Chowder Palace into a happening dining spot, the Calamari Curls. Business at the new restaurant not only draws the townspeople away from the Chowder Palace, but brings more outsiders into town, where all the businesses except the Chowder Palace are able to take advantage of the newfound tourist trade.
Bright makes common cause with "Betty Step-in-Time," a street performer and shaman, to do whatever they can to destroy the Calamari Curls. Betty researches the town and learns that the previous occupants of the building had all come to a bad end. Readers will readily identify the Lovecraftian influences at that point, if the name of the new restaurant isn't already a clue. Although no elder gods are directly summoned, their influence does bring about Bright's desired ends.