Birthday Reviews: C.M. Kornbluth's "The Remorseful"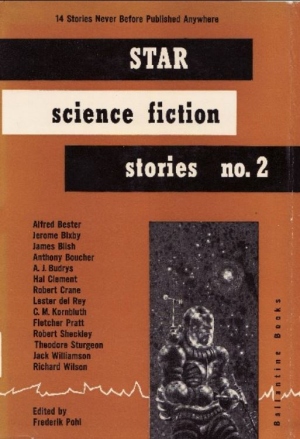 C.M. (Cyril M.) Kornbluth was born on July 23, 1923 and died on March 21, 1958.
Kornbluth died relatively young, but his work and memory have been kept alive. His short story "The Meeting," finished by his frequent collaborator Frederik Pohl, earned them a Hugo Award in 1973 and he was nominated for four solo Hugo Awards prior to his death. His novelette "The Little Black Bag" won a Retro Hugo in 2001. In 1986, his novel The Syndic was inducted into the Prometheus Award Hall of Fame. His 1951 short story "The Marching Morons" is still considered a touchstone of science fiction
Frederik Pohl bought "The Remorseful" for Star Science Fiction No. 2, which was published in December 1953. The story also appeared in New Worlds Science Fiction #29 in November 1954. The story was included in Kornbluth's posthumous collection The Marching Morons and Other Famous Science Fiction Stories. In 1976, it was translated into German for publication in Titan 1, edited by Pohl and Wolfgang Jeschke. The story showed up again in The Best of C.M. Kornbluth, and Robert Weinberg, Stefan Dziemianowicz, and Martin H. Greenberg included it in 100 Astounding Little Alien Stories. It was finally included in the NESFA Press collection His Share of Glory: The Complete Short Science Fiction of C.M. Kornbluth, edited by Timothy Szczesuil.
Kornbluth relates two stories in "The Remorseful." The first tells of a man who walks across a barren Earth after an apocalypse has depopulated the planet. The other tells about an alien invasion of the solar system, focusing less on their activities and more on their alien nature as a sort of hive organism which can drop portions of itself off to explore/invade the outer planets and learn about the outposts mankind has set up.