Birthday Reviews: Amy Thomson's "Buddha Nature"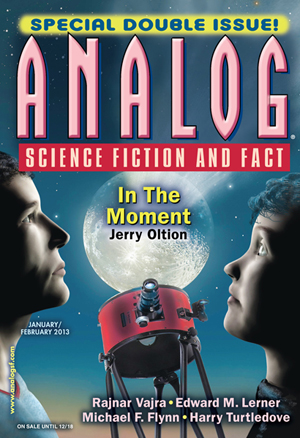 Amy Thomson was born on October 28, 1958.
Thomson won the John W. Campbell Award for Best New Author in 1994 on the basis of her debut novel, Virtual Girl. She subsequently published two novels in The Color of Distance series and the stand-alone novel Storyteller, as well as three short stories. She has been nominated for the Prometheus Award for Virtual Girl, the Philip K. Dick Award and Seiun Award for The Color of Distance, and the John W. Campbell Memorial Award, Gaylactic Spectrum Award, and Endeavour Awards for her novel Storyteller. In the trading card series issued by the Chicago in 2000 Worldcon bid, card number 28 was of Thomson and identified as the "Official Rookie Card."
"Buddha Nature" was published in the January-February 2013 issue of Analog Science Fiction and Science Fact, edited by Stanley Schmidt. The story was Thomson's first published science fiction in a decade and earned her the Anlab Award for Best Novelette. The story has not been reprinted.
Many authors have explored what it means to be human through the lens of robots in science fiction, most notably, of course, Isaac Asimov. Amy Thomson has also examined the idea that a sufficiently advanced robot can become human through a religious lens in "Buddha Nature."
The Buddhist monks are surprised when a robot named Raz trundles up to the monastery and asks if it may join the order as a novice. Not entirely sure how to respond, Samsara invites the robot in and introduces it to the abbot, Bodhidharma, who reflects on the question of whether a robot can achieve enlightenment or not and decides that while he feels the robot belongs, it is appropriate to put the question to a vote. Although some of the monks express reservations, none stronger than Henry, Bodhidharma agrees to let the robot into the monastery for a trial period.
Over the course of the story, the monks learn as much from Raz as the robot learns from them. Samsara teaches Raz what it means to have emotions, sympathy, frustration, and other human traits. Although Samsara doesn't fully understand why Raz needs to learn this, the robot decides it can't achieve enlightenment without learning what humans must overcome to achieve it. While Raz is learning these things from Samsara, the humans are learning to view the world in a more clinical and detached manner and many of them are learning to accept the non-human, potentially sentient in their midst, although acceptance isn't universal among the monks.