So, What the Hell Am I, Anyway?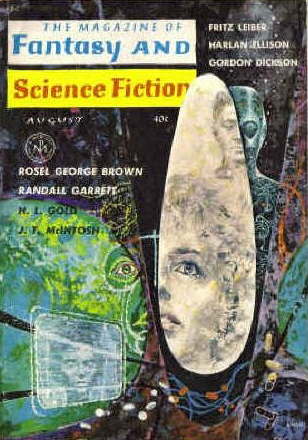 Mrs. [Rosel George] Brown is just about the only one of F&SF's former gaggle of housewives who doesn't strike me as verging on the feebleminded; in fact, I think her work has attracted less attention than it deserves.
That's James Blish (writing as William Atheling, Jr.) being nice. He was talking about Brown's story in the August, 1962 issue of F&SF (then edited by Avram Davidson), pictured at right.
He doesn't name the story – odd that a critic wouldn't, even in a review published at the time – but a little online research shows it to be the novelette "The Fruiting Body." It's a pretty good read, too, as most of Brown's work was.
For me, though, the salient point of the quote above is the off-hand contempt he throws on fine writers like Zenna Henderson, Katherine MacLean and Miriam Allen DeFord, a blatant disdain that is both unfortunate and unwarranted.
Looking over the first Blish/Atheling volume of collected criticism, The Issue at Hand (Advent Publishers, 1964), in fact, the reader finds similar contempt for one writer or another on nearly every page.
It gets worse. In the March, 1954 issue of Campbell's Astounding, a story by one Arthur Zirul titled "Final Exam" appeared. It was the author's very first story. Blish/Atheling, in the Spring 1954 issue of Redd Boggs' fanzine Skyhook, devoted almost his entire column (which translated to an incredible six pages in book form) to tearing this story to shreds; calling it "…one of the worst stinkers ever to have been printed…", and on and on.
Why? What was the point?