Reading The Lost Oases by Ahmed Hassanein Bey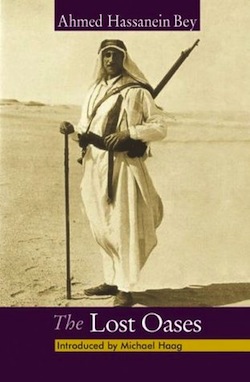 I've always loved vintage travelogues. The world was bigger a hundred years ago, its cultures more distinct and isolated. Travel was hard and sometimes dangerous. Accounts of old journeys bring me back to a time when people could go to places like Africa and not be able to text home.
But there's always been a problem with the genre. The vast majority of the books available in English are from the Western perspective, especially the Anglo perspective. So The Lost Oases, written by Egyptian Ahmed Hassanein Bey and published in 1925, came as a welcome change. It's an Arab account of discovering two remote oases in the far southwest of Egypt, hundreds of miles from the nearest habitation.
Ahmed Hassanein Bey was a wealthy Egyptian of Bedouin stock who was educated at Oxford, so he is good at explaining his own culture to the Western reader and yet remains enough of an outsider that we can enjoy watching his learning curve as he visits his country cousins.
He was already an experienced desert traveler when he set out on this mission, and we're carried through a detailed description of his preparations and planning. When all is ready, he goes to his father for a moving scene where the old man blesses him and the baggage for a safe journey.
After skirting the coastline, the caravan heads south along the Egyptian/Libyan border. At this point in history, Egypt was administered by the British Empire and Libya by Italy. The main group along the border, then and now, is called the Senussi. I mainly knew of them from their attempt to invade Egypt during the First World War at the urging of the Germans and Ottomans.